Dec. 09, 2022
If the Cummins generator set fails to start due to the fault of the speed sensor, the Cummins generator set can be successfully started again after the new speed sensor is replaced. (The speed sensor, temperature sensor and pressure sensor of Cummins generator set are hereinafter collectively referred to as sensors.) What parts are the sensors of Cummins generator set composed of? How does it work? Here, Starlight power generation equipment is briefly analyzed for you.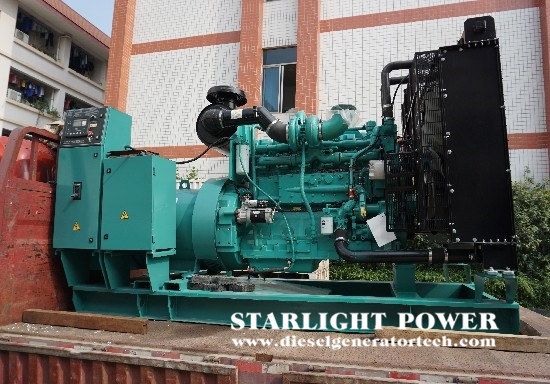 The sensor of Cummins generator set is generally composed of three parts: sensing element, conversion element and conversion circuit.
1. Sensitive element
An element that directly feels the measured and outputs other quantities in a certain relationship with the measured. Not all measured non electric quantities can be directly converted into electric quantities at one time. The sensing element is also called a pre converter. For example, all types of elastic elements in the sensor are sensitive elements.
2. Conversion element
A component that converts the output of a sensing element into electrical parameters (voltage, current, frequency, etc.). Such as resistance strain gauge, Hall element, etc.
3. Conversion circuit
It generally refers to the circuit that converts the number of electrical parameters into electricity (voltage, current, frequency, etc.). The conversion circuit plays the role of converting the output signal. The common ones are signal amplifiers, bridges, oscillators and impedance converters, which are often assembled with sensing elements and conversion elements.
The above division has no strict limit in the actual sensors. The simplest sensor has only one sensing element (also a conversion element), which directly converts the sensed measured energy into electrical output, such as a thermocouple sensor. For some sensors, the sensing element and the conversion element are integrated, such as the capacitive pressure sensor. For the sensor with conversion circuit, the conversion circuit can be assembled with the sensing element and conversion element, or installed in the external circuit box as required.
Jiangsu Starlight Power Generation Equipment Co., Ltd. was founded in 1974 and is one of the earliest manufacturers of generators and diesel generator sets in China. The company has a registered capital of 218.88 million yuan. The company covers an area of 86,000 square meters and a building area of 55,000 square meters. There are more than 660 employees, including 456 professional technicians and 106 senior technicians. It has 46 sales and service outlets nationwide. The main products are diesel engines, generator sets, and diesel generators, providing users with a one-stop service of design, supply, debugging and maintenance at any time. Starlight has always insisted on using first-class talents, building first-class enterprises, manufacturing first-class products, creating first-class services, and making every effort to build a first-class domestic enterprise. If any question please feel free to visit our website https://www.dieselgeneratortech.com/ or send email to sales@dieselgeneratortech.com.