Jul. 19, 2022
Diesel generators are used as auxiliary machines. Diesel generators are suitable for many environmental occasions: they are also used in commercial environments such as farms, construction sites, mining areas, or Internet cafes, hotels, and restaurants. Different equipped machines have different effects on the use of diesel generators.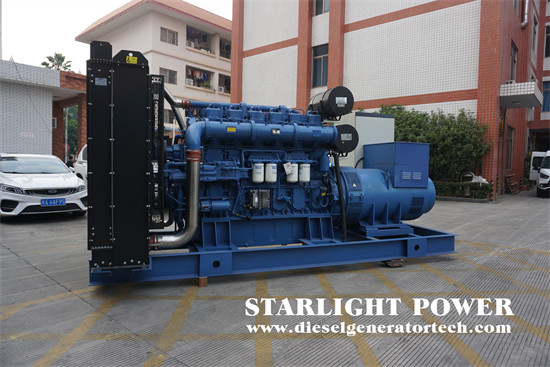 Starlight power generation equipment introduces us to 4 common diesel generator equipment:
1. Equipped with silent box: When the diesel generator is working, it will produce a lot of sound, generally noise (LP7m): 95dB(A). The silent box is equipped with an outer casing to close the unit, and adheres sound insulation material to the inner wall of the outer casing, leaving the air inlet and exhaust port for the unit to inhale air and dissipate heat, which has the effect of significantly reducing noise. In addition to reducing noise, it can also be used as rainproof and dustproof, and the unit can be placed outdoors for use. It is especially suitable for users who have noise requirements for the use of diesel generators.
2. Mobile trailer equipment: It is a mobile power supply equipment specially designed for the common power supply of field construction units that often require the location of mobile generators. It has the advantages of convenient mobile operation, noise reduction multi-channel intake and exhaust, air intake and exhaust channels, and ensures the dynamic performance of diesel generators.
3. Fully automatic control cabinet/ATS automatic control cabinet: Automatically control the start, stop and control of dual power supply mains-generating automatic transfer switch (ATS) of diesel generators. With automatic/manual working mode, it can be equipped with a variety of warning protection functions for manual start and stop equipment: high water temperature, low oil pressure, overspeed, overclocking, overload, undervoltage, failure to start, failure to charge, failure to convert and other warning protections.
4. Rainproof shed equipment: It is mainly used to place the unit outdoors, which has the functions of rainproof and dustproof.
Different diesel generators are equipped with deployment machines to play different roles. The above are some recommended equipment for starlight power generation equipment. Customers can choose to customize according to their actual application needs!
Jiangsu Starlight Power Generation Equipment Co., Ltd. was founded in 1974 and is one of the earliest manufacturers of generators and diesel generator sets in China. The company has a registered capital of 218.88 million yuan. The company covers an area of 86,000 square meters and a building area of 55,000 square meters. There are more than 660 employees, including 456 professional technicians and 106 senior technicians. It has 46 sales and service outlets nationwide. The main products are diesel engines, generator sets, and diesel generators, providing users with a one-stop service of design, supply, debugging and maintenance at any time. Starlight has always insisted on using first-class talents, building first-class enterprises, manufacturing first-class products, creating first-class services, and making every effort to build a first-class domestic enterprise. If any question please feel free to visit our website https://www.dieselgeneratortech.com/ or send email to sales@dieselgeneratortech.com.