Oct. 10, 2022
Many domestic generator manufacturers count cooling water tank (radiator), fuel tank, exhaust muffler, battery, etc. as accessory equipment, and are allowed to put forward relevant installation requirements when ordering. There are many brands of diesel generator sets on the market. When purchasing, pay attention to the performance and quality of the selected unit, which must meet the requirements of relevant standards. At the same time, the key is to select diesel generator sets with appropriate capacity, power and guaranteed quality.
A qualified diesel generator set shall have a production license, product certificate and trademark registration certificate. The product certificate shall include the complete machine certificate, internal combustion engine certificate and generator certificate. In addition, whether the diesel generator set vendors are qualified, whether they have their own factories, manufacturing technologies and professional engineers, how many years they have been engaged in the industry, and whether the power brand products they cooperate with are reliable are the research priorities that need to be considered.
Generally speaking, the capacity of ordinary diesel generator set is estimated according to the output power of the unit in long-term continuous operation can meet the maximum calculated load of the whole project, and the capacity of the standby unit shall be determined according to the importance of the load. The output power of the diesel engine for continuous operation is generally 0.9 times of the rated power. The unit capacity is too small to drive all loads or stop suddenly when starting high power loads. If the unit capacity is too large, the investment and maintenance costs will be high, resulting in waste of resources.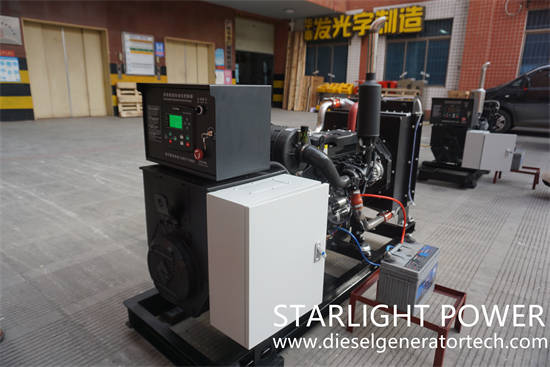 In addition, according to the characteristics of diesel engines, long-term low load operation will lead to serious carbon deposition at piston rings and fuel injection nozzles, which will aggravate cylinder wear. In addition, many factors need to be considered in capacity estimation, including operating environment, load type and reserved capacity. When ordering, it is recommended to propose relevant requirements and standards for the installation of auxiliary equipment of the generator set.
Starlight Power adheres to a responsible and professional attitude to strictly control the safety of product development and quality monitoring, and takes the lead in going abroad by actively responding to the Belt and Road Initiative. It has established strategic cooperation relationships with well-known diesel engine manufacturers at home and abroad, such as Yuchai, Shangchai, Huaichai, Cummins, Volvo, Perkins, and other brands, and has been in line with the world's excellent operating standards and production efficiency to create a series of high-quality diesel generator sets.
Jiangsu Starlight Electricity Equipments Co.,Ltd. is one of the earliest manufacturers of generators and diesel generator sets in China. The company relies on high-quality products and good services. It has been widely recognized by users in many fields. At present, it can provide various specifications of diesel generator sets in the power range of 15KW-2500KW. For more details, please contact us with sales@dieselgeneratortech.com.