May. 09, 2018
Shanghai KEPU alternator company mainly produces alternators including low voltage three-phase synchronous generator and high voltage three-phase synchronous generator.
KEPU Series Production
KEPU alternator is mainly divided into STC Series, TFW Series generators and GTF Series high voltage generators. Frame size is from 225mm ~ 630mm. Structural style includes single bearing and double bearing points. The generator protection level is IP21, IP22, IP23, IP24, etc. Rated power is from 8KW to 3200KW, rated voltage is from 110V to 13800V, rated frequency is from 50Hz to 400Hz.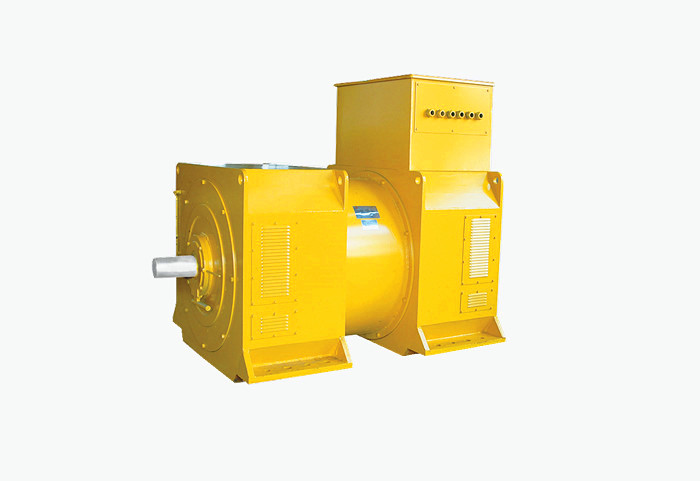 KEPU Alternators Characteristics
1. Good voltage waveform
2. Steady-state voltage adjustment rate is high.
3. Battery compatibility is strong.
4. Excellent dynamic performance
5. Ability to start asynchronous motor is large and nonlinear load ability is strong.
6. Stable parallel operation, high reliability, simple structure and beautiful shape.
Alternator application
KEPU Series alternators have been widely used in various fields, such as oil field, railway, telecommunications, factory, mining, real estate, and road construction and so on industry. It has provided an excellent and reliable production for many national key projects, such as South-to-North water diversion, State Grid, Ministry of Railways, Chinese fishery administration ships, China Mobile, China Unicom, CNPC, Sinopec, etc. Shanghai KEPU Alternators have been exported to the world.
Standard
This series generators accord with GB755 "Rotating electrical machines-Rating and performance" (IEC60034-1 "Rotating electrical machines part l-Rating and performance") and GB10585 "fundamental requirements of exciting systems for medium and small synchronous machines".
Application Environment
1. Altitude above sea level not over 1000 meters
2. Relative humidity of cooling air not exceeding 90%
3. Temperature of cooling air -15℃ ~ +40℃
Note: If the altitude and the temperature of cooling air of the place where the generator runs don't conform with conditions mentioned above, the output of the generator would be revised according to stipulations given in GB755 "Rotating electrical machines-Rating and performance"or IEC34-1 recommended by the International Electric Committee.
Power range: 8KW to 3200KW
Electrical Performance
Exciting System
The series generators have three exciting systems for you to choose. Harmonic exciting system, brushless exciting system and PMG exciting system, which can meets the different requirement of customers.
Insulation Class
The insulation system is Class H.
All wound components are impregnated with materials and processes designed specifically ensure the generator running in dreadful conditions. The special developed resin based friction materials meet required for high mechanical strength of windings and rotating components.
Frequency
Rated frequency of this series generators is 50Hz, rated voltage is 400V. According to the requirements of clients, we can also produce 60Hz, 400V or 480V.
Power Factor
The power factor is 0.8(lagging) and We also can design generators whose power factor is less than 0.8(lagging).
Steady-state voltage adjustment
Steady-state voltage adjustment rate of the generators is between +1%.
Transient Performance
When power factor is 0.8(lagging), add rate load suddenly, the transient voltage drop is less than 15% and when power factor is 0.8(lagging), reduce rate load suddenly, the transient voltage rise is less than 20% UN, stable time is less than 1.5s.
Waveform
Line voltage waveform sinusoidal deviation factor at on load THD is less than 5%. Telephone harmonic factor is less than 5%. All generator stators are wound to 2/3 pitch, this eliminates triple harmonics on the voltage waveform and is an optimum designed for UPS equipment of non linear loads. The design avoids excessive neutral currents result from higher winding pitches. A fully consecutive damper winding reduces oscillations during paralleling and ensures very low waveform distortion: . .
Voltage adjustment range
The voltage adjustment range of generators at non load is 90%~105% UN.
Parallel
When assembled parallel operation mode, the generators can work on parallel operation.
Terminals and Terminal Box
Standard generators are 3-phase, and terminals are installed on the connection plate of the non-driven end. It makes connection with AVR very easy because of the large junction box which made of steel plate. Parallel current transformer and winding high temperature alarm or other optional module can also be installed in the box.
Mechanical Features
Form
The series generators has single bearing and two bearings for user choose.And supply conversion link connector and driven chip with prime mover.
Protection
Protection class of the series alternators is IP21. If necessary, we can improve the protection class. Protection class of outlet box is IP44.
Bearings
Under H355, generators adopt long-lasting sealed bearings, above H400, generators adopt lubricated bearings that may be filled.
Balance
All of the series generators rotors have been dynamic balanced according to IS01940.
Rotating direction
All of the series generators can rotate bi-direction-ally. Face to the shaft extension rotating clockwise is positive phase sequence.
Over speed
The max over speed of the series generators l.2 rated speed, and last not exceed 2 minute.
Mechanical structure
The series generators is made of high-quality steel plate Q235 which welding together. The material of the shaft is 45# steel.
Note: In addition to Shanghai KEPU alternators, we also supply Stamford generator, Leroy-Somer alternator, Siemens, Marathon, Engga, etc.