Jan. 02, 2020
Brief introduction of Shanghai Matahon Generator

Shanghai Marathon innovative Electric Co.,Ltd.introduces the design and manufacturing process technology of the Marathon Electric U.S.A so as to produce x the international advanced level of single/three-phase brush-less ac generator, with the generator voltage ranging from 110 V to 110 V and the capacity ranging from 5 kw to 3000 kw.The products are widely used in ordinary power supply, emergency power and special power supply, and they act as the main power supply or emergency power supply in railway, mining, hospital, house property, military industry,ships, reefer container, telecommunications, port machinery and key national projects.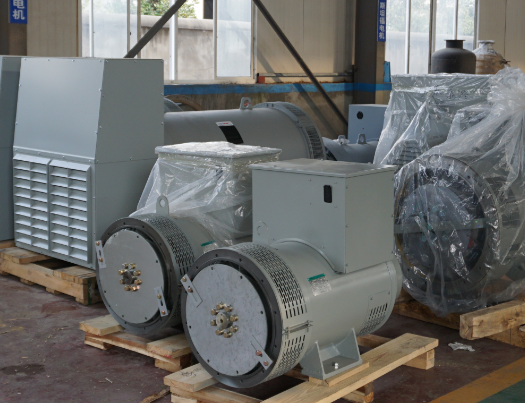 MP series 500 frame three-phase brushless ac synchronous generator is a new type of brushless generator newly developed, modified and designed on the basis of MAGNAPLUS drawings provided by Marathon Electric U.S.A.
The MP series 500 frame generator and the diesel engine can be combined into the fixed or mobile power supply that is suitable for various occasions and can also be used as emergency power supply. MP series generators have unique design, advanced structure, good performance, reliable running and easy operation, which are suitable for various applications and climate conditions and also stand for the current advanced international level.
Excellent electrical performance
1. Steady-state voltage regulation rate ≤ 1%
2, Transient-state regulating rate + 20% 15% Un (60%In.cosφ≤0. 0.4 lag)
3. voltage regulating range>±10%Unz
4, sine distortion rate of line voltage waveform < 5%
5. Thermal deviation of zero (minimal)
Unique structure design
1. The generator is in a whole protection structure, and the internal ventilation and cooling structure is unique. Aluminum alloy fan brings in high ventilation rate and low temperature rise.
2. The brushless excitation mode is equipped with solid state voltage regulator.The voltage regulator comes with functions of low speed protection, electromagnetic interference suppression and excitation shut off, and it's also configured with stability adjustment and voltage amplitude adjustment.
3. The whole salient pole rotor structure, amortisseur winding and rotor core are connected together. The field winding adopts the thermosetting epoxy filler, with high mechanical and electrical strength.
4. The rotating rectifier is located in the lateral side of the exciter rotor, which is easy for maintenance.
5. Out of the box and spacious, can be mounted inside a variety of devices.Out of the box located above the back of the stand, compact and beautiful.
6. Insulation class is Class H.
7. Parallel operation module and additional devices can be provided as per the customer requirements.
8. The generator are divided into two structures: single bearing and double bearing.The single bearing one comes with a interface of international standard and a coupling piece, which can fit with all kinds of imported oil engine; double bearing adapts to the matching of all kinds of domestic diesel engines, and various sizes of flange seam allowance can be set up according to the demand of customers.
9. According to customer needs, PMG can be additionally added and DVR2000E digital voltage regulator can be used.
10. According to customer needs, condensation heating tube and the thermal protection components can be additionally added.
Working Conditions
Air temperature is less than:40℃
Altitude does not exceed:1000 meters
If the working conditions do not meet above environment, the power output quota must be corrected by the regulation.
Voltage, frequency, speed, power factor and working mode
Rated voltage:400 V, 480 V, 60 Hz)
Rated frequency:50 Hz or 60 Hz
Rated speed:1500 revolutions per minute or 1800 revolutions per minute
Power factor:0.8 lag
Work style: continuous (S1)
According to customer needs, they can be made into products with different output voltage or other special requirements.
Parallel operation
MP generator can all be continuous and in parallel operation. In order to ensure the operating stability of generators, full damping windings are equipped on the rotors.
in parallel operation of generators, the distribution with power load is implemented by the speed regulators of the diesel engines, and the distribution without power load is implemented by the voltage regulator of the generators.
While the generators equipped with SE350 are in parallel operation, there must be APM2000 parallel modules and 5VA current transformers, and voltage sag or cross flow compensation is used to guarantee the balance of the distribution without power load between parallel generators.
The generators equipped with PMG and DVR2000E voltage regulator only need to provide 5 va current transformer signal to voltage regulators, because the DVR voltage regulators contain the function of parallel operation.
Resistance to electromagnetic interference
The generators equipped with SE350 voltage regulators belong to the regular grade, but the generators equipped with DVR2000E digital voltage regulator are in accordance with grade MiL-461c.
Bearing
The bearings used by MP generator are double dust-proof rolling ball bearing, with one-time lubrication by special high performance grease. Under normal use, B10≥ 20000 hours.
We supply Marathon generator end for genset, for more information, please visit: