Jul. 15, 2020
As one of the leading diesel generator manufacturer in China, Starlight Power has focused on high quality product for more than 43 years. We cooperate with many diesel engine manufacturers for generator set. One of our diesel engine partner is Weichai Power Co.,Ltd. We are authorized as a matching manufacturer(OEM) of WeiChai Power Co.,Ltd. Starlight Power Weichai series generator power range is from 20kw to 1000kw with frequency 50Hz and 60Hz.
Today Starlight Power shares the technical data of Weichai generator, which is the most popular.
1.General data of 350kw Weichai generator set
Genset model: XG-350GF
Prime power/standby power: 350kw/385kw
Rated voltage: 230/400V or as your need
Rated current: 630A
Rated speed/frequency: 1500rpm/50Hz
Power factor: 0.8lag
Start up time: 5~6s
Overall size of genset: 3.2x1.69x1.95m, net weight: 3500kg
Manufacturer: Starlight Power
2.Operating conditions
A.No operating time limited
B.It allow overload 10% power of 1 hour every 12 hours ,and the operating condition can't be more than 25 hours.
C.The average load factor shall not exceed 70% of the prime power in 250 continuous hours.
D.The time of running at 100% Prime Power no more than 500h each year.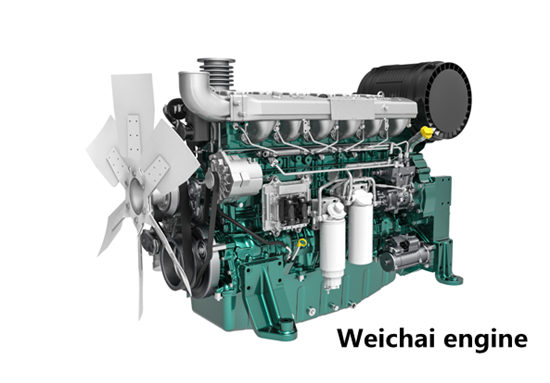 3.Weichai engine WP13D440E310 technical data
Diesel engine model: Weichai WP13D440E310
Rated Power:390kw
Standby power: 440KW
Engine type: In-line, 4-Strokes, Water cooled, Turbocharged and Intercooled.
No. of cylinders / valves: 6/24
Bore/Stroke:127/165mm
Compression Ratio: 17:1
Displacement:12.54L
Rated speed: 1500rpm
Idle speed:600±50 r/min
Crankshaft rotating direction: counterclockwise facing flywheel
Starting method: DC 24V electrical Start
Starting motor power/voltage: 5.4kW/24V
Governing control: electronic control
Cooling mode: closed water-cooled
Min. coolant temperature of engine working: 50℃
Coolant capacity:25L
The capacity of oil sump:36L
4.Main performance parameters of Weichai diesel engine WP13D440E310
Steady governing rate: ≤3%
Fuel consumption at rated working condition: ≤205g/kW·h±3%
Consume ratio of oil and fuel: ≤0.2%
5.Recommended used diesel engine parameters
Muffler flow: ≥2018kg/h
Alarm value of low oil temperature: 80 kPa
Alarm value of high oil temperature:1000kPa
Alarm value of water temperature: 97℃
Alarm value of high oil temperature:105℃
Alarm value of high speed:110% rated speed
Stopping value of low oil pressure:45kPa
Stopping value of high speed:115% rated speed
Min. diameter of fuel inlet pipe: 12mm
Min. diameter of fuel return pipe: 12mm
Cooling system resistance of engine external (Rated working condition): 50kPa
6.Ambiance condition of 300KW Weichai generator set
A.The diesel engine should be able to output rated power in the following conditions:
Atmospheric pressure, PX:100kPa (or 0 meter above sea level);
Ambiance temperature , Tr: 298K(25℃);
Relative air humidity Φr30%
B.The diesel engine should be able to work continuously and reliably in the following conditions:
Range of ambiance temperature: -30℃≤T≤50℃;
Relative air humidity: the max relative humidity is 90% of the wettest month in a year(It means that the lowest average temperature of this month is 25℃);
The working environment should be without explosive gas and electric mote;
The customer should illuminate in advanceif therehas any especial and dangerous condition at the working space (for example, explosive and flammable gas).
7. Spare parts supply service
Oil filter, Air filter, Fuel filter, Oil water separator, Start motor, Belt, AVR, Muffler etc.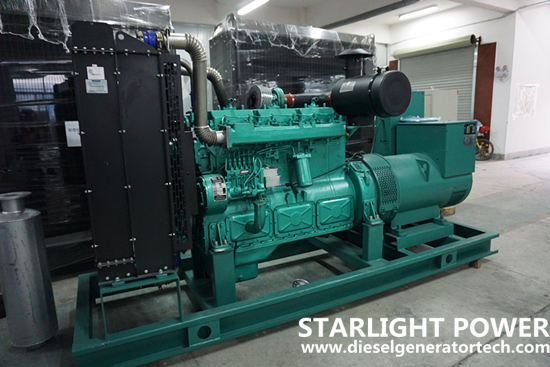 8. Advantages of Starlight Weichai series diesel generator set
A.They can meet the emission standard Stage III;
B.Adopting special structure: optimize the intake and exhaust structure, reduce the flow resistance and reduce the height of the whole machine;
C.Special flat bottom oil pan reduces the height of the whole machine, reduces the vibration and noise; the rear air filter reduces the width of the whole machine and is convenient for maintenance;
D.Focus on optimizing the fuel consumption in the range of 60% - 90% load rate and low fuel consumption;
E.The engine can be started directly without any auxiliary measures at -15℃; the engine can be started smoothly by preheating at -35℃; the engine can output rated power when the altitude is less than 3000m; the engine can work reliably when the altitude is higher than 3000m.
Starlight Weichai diesel genset is with reliable quality, stronger power and competitive price. And for silent diesel genset, the silent case material uses Q235 cold rolled steel sheet, which is stable, not easily deformed. Thickness of silent case can reach to 1.5~3mm. We only do high quality product with reasonable price, if you are interested, call us by phone +8613481024441.