Jan. 09, 2020
Starlight will share 1000KVA 800KW Perkins diesel generator data sheet in this article, including the introduction to the Perkins engine, and the alternator as well as controller technical parameters.
Perkins 4000 Series family of 6, 8, 12 and 16 cylinder diesel engines was designed in advance of today's uncompromising demands within the power generation industry and includes superior performance and reliability.
The 4008TAG2A is turbo-charged, air-to-air charge cooled, 8 cylinder in-line diesel engine. Offered with either Temperate or Tropical cooling packages (with or without fuel cooling). Their premium design and specification features provide economic and durable operation as well as exceptional power to weight ratio, improved serviceability, low gaseous emissions, overall performance and reliability essential to the power generation market.
Economic power
1. Individual four valve per cylinder heads give optimised gas flows, whilst digitally governed unit fuel injectors ensure ultra fine fuel atomisation and hence controlled rapid combustion, for efficiency and economy
2. Commonality of components with other engines in the 4000 Series family allows reduced parts stocking levels.
Reliable power
1. Developed and tested using latest engineering techniques
2. Piston temperatures are controlled by an advanced gallery jet cooling system
3. All engines are tolerant of a wide range of temperatures without derate
4. Service is provided by the extensive Perkins network of over 4,000 distributors and dealers worldwide
Clean, efficient power
1. Exceptional power to weight ratio and compact size for easier transportation and installation
2. New designed radiator assemblies with corrosion inhibiting powder coated surfaces; fewer pipe joints and easier access to reduce maintenance times
3. Designed to provide excellent service access for ease of maintenance
4. Engines designed to comply with major international standards
5. Low gaseous emissions for cleaner operation
Perkins 4008TAG2A engine for typical generator output (800KW Prime Power Generator Output)
Typical Generator Output (Net)

Engine Power

KVA

KWe

Gross (KW)

Net (KW)

1022

818

899

861

1125

900

985

947
Standard ElectropaK Specification
Air inlet
Mounted oil filters and turbochargers
Fuel system
Unit fuel injectors with lift pump and hand stop control
Digital electronic governor to ISO 3046 Part 4 Class A1
Full-flow spin-on fuel oil filters
Lubrication system
Wet sump with filler and dipstick
Full-flow spin-on oil filters
Engine jacket water/lube oil temperature stabiliser
Cooling system
Gear driven circulating pump
Twin thermostats
Crankshaft pulley for fan drive
Powder coated radiator assemblies comprising: water radiator; air charge cooled radiator; fuel oil cooling (optional); all pipes, hoses and clips; fan; pulley; fan belts and safety guards
Electrical system
24 volt starter motor and 24 volt/40 amp alternator with integral regulator and DC output
24 volt combined high coolant temperature/low oil pressure switch
Overspeed switch and magnetic pickup
Turbine inlet temperature shutdown switch
24 volt stop solenoid (energised to run)
Flywheel and housing
Flywheel to SAE J620 size 18
SAE 0 flywheel housing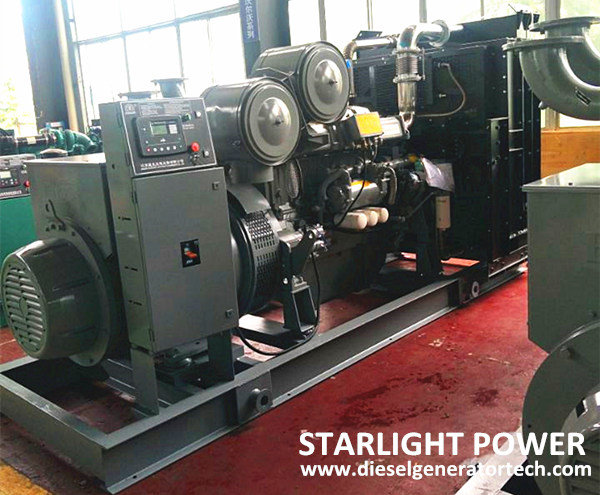 Optional Equipment
Other optional extra equipment available:
Choice of Temperate or Tropical radiators available dependent on operational cooling requirements
Fuel oil cooling radiator available integral to radiator assemblies
Twin heavy duty air cleaner - paper element with pre-cleaner
Changeover lubricating oil filter
Changeover fuel oil filter
Immersion heater with thermostat
Air starters
Instrument panel
1000KVA Perkins 4008TAG2A Diesel Generator Set Data Sheet
Engine Data

Number of cylinder

8 vertical in-line

Bore and stroke

160 mm x 190 mm

Displacement

30.561 litres

Aspiration

Turbocharged and air-to-air charge cooled

Cycle

4 stroke

Combustion system

Direct injection

Compression ratio

13.6:1

Rotation

Anti-clockwise

Cooling system

Water-cooled

Total lubrication system capacity

165.6 litres

Fuel consumption

208 g/kWh (100% prime power rating)

202 g/kWh (75%)

205 g/kWh (50%)

Ambient coolant clearance

35°C for Temperate cooling

50°C for Tropical cooling

Total coolant capacity

143 litres for Temperate cooling

149 litres for Tropical cooling

Dimensions

3852 x 2046 x 2067 mm

Dry weight

4270 kg

Alternator Data

Brand

Model

LVI634E1

Insulation system

Class H

Protection level

IP23

AVR

MX341 (PMG)

Voltage regulation

±0.5%

Rated power factor

0.8

Stator winding

Two thirds

Winding leads

6

Controller Data

Brand

SmartGen

Model

HGM6110

Type

Automatic control module

SmartGen Auto Module Control Panel is the configuration for nobody on duty controlling generator. This kind of panel adopts auto module control system, with large LCD display to show the menu. Features: 6110 can receive remote output signal from ATS and realize auto start and stop of generator.
Starlight is authorized as Perkins diesel generator set OEM supporting manufacturer, can provide 30kva to 2250kva Perkins diesel generators with good quality and competitive price. If you are interested, please contact us directly by mail: sales@dieselgeneratortech.com to get the latest price!