Mar. 30, 2022
When purchasing a diesel generator set, the generator manufacturer generally tells the user that it needs to be operated regularly, and that it needs to be maintained regularly. Why? In this article, Jiangsu Starlight Electricity Equipments Co.,Ltd. will analyze it for you.

The main reason for running a generator on a regular basis is to ensure that it is in proper operating condition at all times. In most cases, enterprises choose to install backup diesel generators so that they can still supply power in an emergency. If the diesel generators are not run regularly, it is very likely that the diesel generators cannot be started normally during a power outage. It will bring huge troubles and economic losses to the enterprise.
Running the generator on a regular basis helps prevent moisture build-up and wet buildup. It ensures that all components remain properly oiled and prevents fuel degradation. And, as we mentioned, it's important to help detect and prevent bigger problems in the future. Proper maintenance now will go a long way towards extending the life of your diesel generator.
Reduce maintenance costs.
Preventive maintenance has been shown to reduce costs by catching small service problems before they develop into huge repair headaches.
Extend generator life.
Just like a vehicle that has been serviced for many years, proper maintenance of a diesel generator will ensure that you benefit from it for years to come. A diesel generator maintenance program keeps your generator running smoothly, allowing you to run it for a long time.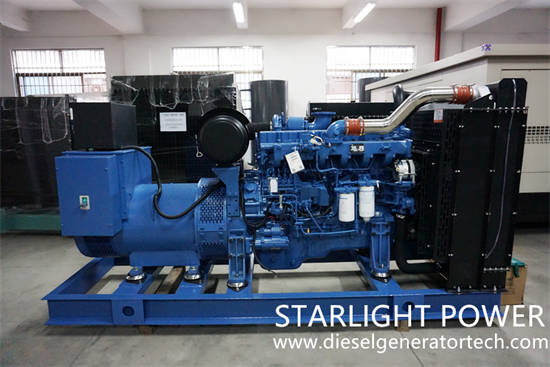 Save time.
Also, as with any piece of equipment, a regularly serviced diesel generator presents fewer and fewer problems than a neglected generator. A regular diesel generator maintenance schedule will save you time by ticking off another thing on your to-do list. And you probably won't have to wait for multiple repairs because there won't be any!
Provide peace of mind.
One of the main reasons many businesses choose to purchase a backup diesel generator is peace of mind. They want to know that their generators will be ready when they need them. When your generator is regularly serviced, you can rest assured that your business' normal electricity usage will not be affected during a power outage or power outage.
How to run a diesel generator regularly?
Most backup diesel generators automatically turn on for operation at a user-set date, time and frequency. In general, manufacturers recommend running your generator on a weekly and monthly basis. Jiangsu Starlight recommends that you choose a date and time when you run your diesel generator at your corporate job, so you can keep an eye on it to watch and listen for any problems the diesel generator set may indicate.
Jiangsu Starlight Electricity Equipments Co.,Ltd. is one of the earliest manufacturers of generators and diesel generator sets in China. The company was established in 1974 and the company occupies an area. With an area of 86,000 square meters and a building area of 45,000 square meters, it has 64 sales and service departments across the country to provide users with one-stop service of design, supply, debugging and maintenance at any time. Welcome customers to come to consult and visit. Looking forward to your inquiry, please send email to us for details sales@dieselgeneratortech.com.