Feb. 15, 2022
For businesses that rely on electricity to run, a backup power system is one of the indispensable configurations. In an emergency, backup diesel generators allow businesses to resume normal operations with the power they need. In an environment of unstable power supply, a backup diesel generator is a reliable investment, because without a backup power supply, a business can easily suffer huge losses after a power outage. Therefore, it is not accidental that diesel generators have become necessary equipment for current commercial organizations. For ordinary consumers, purchasing diesel generator sets is not a common purchase. This often leads to confusion around the type of fuel used, which brand to buy, and what power generator to use. Follow this diesel generator power guide from Jiangsu Starlight Electricity Equipments Co.,Ltd. to see which diesel generator options are best for you, now let's take a look!

Why is diesel generator power important?
Generally speaking, the smaller the power of the diesel generator, the lower the price, but it does not mean that the generator with low power is necessarily suitable for your business. Because if the generator is running at higher and higher loads for a long time, it may damage the generator earlier. Therefore, choosing a diesel generator with a larger total power than the required total power is suitable for the generator itself and the electrical appliances and equipment from which power is obtained. In terms of safety, for example, one of the benefits of a suitable diesel generator includes extending the life of the generator, providing stable and reliable power and performance for a long time, and more importantly, improving the operating safety of the staff.
Overall, higher power capacity reduces the chance of system damage. For example, the possibility of generator overheating and electrical fires can be reduced. If you choose a diesel generator that is too small, you may face frequent and expensive maintenance. Therefore, avoid these risks by purchasing diesel generators that are powerful enough to meet demand.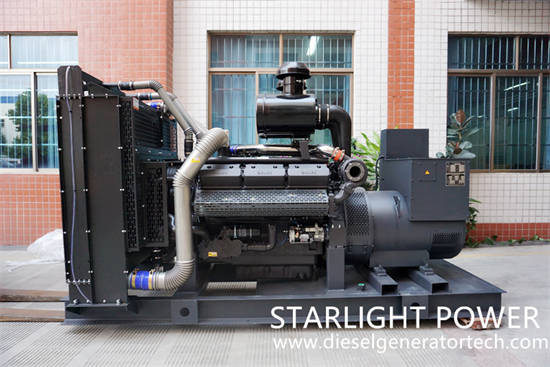 Secondly, to fully understand the categories of diesel generators.
Businesses may be looking for common power or backup power equipment, which are typically provided by mobile or stationary backup diesel generators. Industrial diesel generators are available in a variety of sizes, from 20kW to 3000kW and beyond. These diesel generators cater to businesses that require large capacity for industrial applications. These generators typically use three-phase motors to achieve higher power flow. For example, commercial buildings, office buildings, manufacturing facilities, educational institutions, medical institutions, construction sites and other industries require higher power diesel generators, both for common power and emergency backup power.
Keep in mind that large-scale commercial operations often require an engineering plan, where engineers oversee the installation and determine the wattage of the generator. This ensures compliance with the requirements of the National Electrical Code. The requirements of the National Electrical Code provide guidelines for selection, installation, and safety-critical systems. The system is designed to protect lives in emergency situations. These include alarms, fire pumps and health and safety systems.
So, how to determine the power of diesel generators? To calculate the proper diesel generator power for you, you will need:
1. A list of all items the generator will power.
2. The starting wattage (energy required to turn it on) and operating wattage (energy required to use it) of each device.
3. Your total power needs.
4. Analyze this to find the highest peak demand.
5. Total kWh used last month(peak demand for the period x 24 hours x 30 days)
Once you know the wattage you need, you can easily choose the right generator power. Choose a generator with a capacity 10-20% larger than what you need. This will give you some room if you need to update your device and therefore need more power. Keep in mind that as far as the engine goes, there are a lot of downsides to choosing too little power, and instead decided to increase the capacity by 10-20% to make sure you're getting the correct wattage.
Jiangsu Starlight Electricity Equipments Co.,Ltd. is a professional manufacturer of generators, diesel generator sets, Shangchai generator sets, Volvo generator sets, etc. It has 64 sales and service departments, and provides users with one-stop service of design, supply, debugging and maintenance at any time. Welcome the majority of users call for consultation. For more details, please contact us with sales@dieselgeneratortech.com