Mar. 23, 2023
How to judge whether the transmission shaft of a 100KW Yuchai power generation unit has serious oil leakage? If a small pool of oil can be seen from the ground when running the diesel generator set, it is proposed to send it to the repair shop for maintenance as soon as possible. Check the severity of each specific part of the oil leakage, roughly distinguish the cause of the oil leakage, disassemble and replace the seals and bolts.

What is caused by excessive fuel consumption of diesel generators? If a large amount of oil consumption is found, first check the diesel generator body, transmission gear chamber cover, rear cover plate on the side of the traveling wheel, cover, and other connections for oil leakage. If there is oil leakage, it is necessary to pay attention to whether the sealing rings in each connection area are complete, and remove and replace the damaged sealing rings. If the sealing ring is detailed, check whether the connecting screws in each area are loose.
For loosening anchor bolts, use a wrench to raise the necessary torque. If the inspection is carried out, the upper end is basically normal, and a part of the sound card frame is leaking oil. Check the oil pan. The important inspection position is in front of the oil pan. This may be due to the looseness of the seat screws, the lower pulley of the triangular belt, and the maintenance oil pan frame angle iron causing long-term friction, damage, nicks, and oil leakage in the oil pan.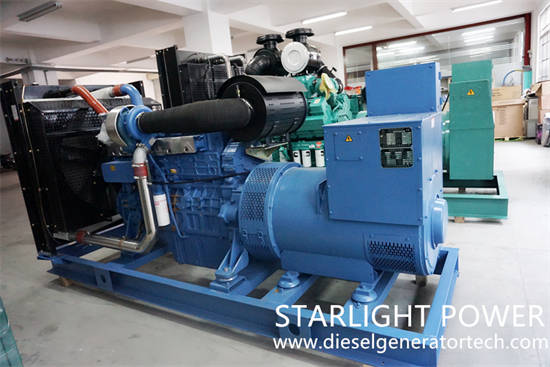 If you look at the oil leakage marks of a 100KW Yuchai generator set, you can find the oil leakage location. If the oil leak is located on the surface of the connecting head of the oil circuit plate, oil distribution plate, and motor stator rear cover plate, manually check the tightness of the connecting bolts. If the anchor bolts are too loose, there will be no oil leakage after tightening, and the fault lies here.
Generally speaking, it is not easy to detect oil leakage. If every part of the engine of a 100KW Yuchai generator set is contaminated with oil, this means that there may be oil leakage in this area. However, different types of engine systems have different abnormal parts, and there are likely to be many unexpected oil leaks.
Jiangsu Starlight Electricity Equipments Co.,Ltd. is one of the earliest manufacturers of generators and diesel generator sets in China. The company was established in 1974 and the company occupies an area. With an area of 86,000 square meters and a building area of 45,000 square meters, it has 64 sales and service departments across the country to provide users with one-stop service of design, supply, debugging and maintenance at any time. Welcome customers to come to consult and visit. Looking forward to your inquiry, please send email to us for details sales@dieselgeneratortech.com.