Mar. 03, 2022
When buying a generator or ordering a rental generator, don't try to buy a machine that's too big for your needs. A good rule of thumb is to make sure the generator is always loaded to at least 50% of its rated power. If you're shopping for diesel generators, they have a huge range of options, from low to high power. Jiangsu Starlight Electricity Equipments Co.,Ltd. supplies 30KW-2500KW automatic, automatic switching remote monitoring, mute and mobile diesel generator sets of various specifications. From product design, supply, debugging, and maintenance, we have carefully considered everything for you. Welcome to order.

Today, in the generator industry, there are many different types of engines that serve basically the same purpose. For example, natural gas generators, gasoline generators, and diesel generators are all similar in power and function, but use different fuels. Although there are many kinds of fuels, they do the same thing as keeping energy flowing. Diesel generators convert mechanical energy into electrical energy, which can be used to drive any device that requires electricity. An industrial diesel generator consists of 7 internal core components: Internal combustion engine: The mechanical energy input by the internal combustion engine. The engine is diesel powered.
Diesel generator ratings are fine as long as the KW and KVA are kept below their ratings. The recommended power should not be lower than the rated PF due to the low efficiency of the generator. Ultimately, exceeding the kW rating or the kVA rating will damage the device.
Because you know what to consider when shopping for the right generator power, don't overlook the importance of regular generator maintenance. Although industrial diesel generators are designed to last a long time, the key to getting the most out of your system is maintenance. The chamber of commerce recommends regular maintenance, such as after several months or hours of continuous operation. More frequent maintenance may be necessary, depending on frequency of use and environmental conditions.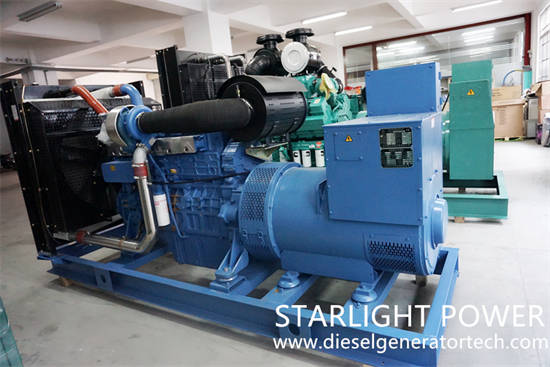 The first thing to do is to calculate the total power requirement. To do this, prepare a list of equipment, lighting and other electrical equipment that must be powered by a backup generator in the event of a power outage.
Jiangsu Starlight Electricity Equipments Co.,Ltd. is a manufacturer of professional generators, diesel generator sets, Cummins generator sets, Volvo generator sets, etc. The company has advanced testing equipment, excellent production technology, professional manufacturing technology, perfect quality management system, and Strong R&D technical strength. It can provide 15KW-2500KW various specifications of universal, automatic, four protection, automatic switching, low noise and mobile, etc., high-quality, low-energy generating sets to meet customer power needs, and can also meet users' different voltages and different frequencies, as well as the power supply system of multiple units connected in parallel, welcome customers to inquire. For more details, please contact us with sales@dieselgeneratortech.com