Aug. 26, 2021
As we all know, the harmful substances in the exhaust gas of diesel generator sets are very harmful to the environment and the human body. With the repeated introduction of national environmental protection policies, non-road diesel generator sets have also been upgraded from National II emissions to National III emissions. A lot of improvements have been made at the level, making engine emissions and fuel consumption tend to be lower. Some emission standards such as the current Volvo generator sets and Yuchai generator sets have reached the national three standards.

For the health of the human body and to further improve the quality of the surrounding environment when diesel generator sets are used, the current diesel generator sets adopt high-pressure common rail and EGR (Exhaust Gas Recirculation System) technology, which is aimed at nitrogen oxides, one of the harmful gases in engine exhaust. The exhaust purification device installed in NOx, the high-pressure common rail engine with national III emission is more expensive than the EGR engine with national II emission. Take the Yuchai generator set as an example. The price of a Yuchai generator with the national III standard is about tens of thousands of yuan higher than the price of the national II standard.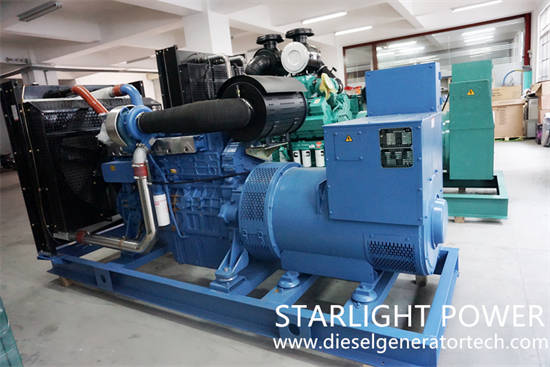 The most important thing compared to the National II diesel generator and the National III diesel generator is that the traditional high-pressure oil pump is upgraded to an electronically controlled high-pressure common rail oil pump. The electronically controlled high-pressure common rail technology simply refers to the high-pressure oil pump, pressure sensor and electronic control. In a closed-loop system composed of a pressure sensor and an electronic control unit (ECU), a fuel supply method that completely separates the generation of injection pressure and the injection process from each other. The oil pressure in the common oil supply pipe can be accurately controlled, and the pressure of the high-pressure oil pipe has nothing to do with the engine speed, which can greatly reduce the degree of diesel engine oil supply pressure changing with the engine speed.
Judging from the level of harmful substances emitted by the engine exhaust, the National III engine is lower than the National II engine, the difference between the two can be judged from the structure of the diesel engine. The fuel supply system of the National III and National II engines is different, and the engine exhaust is harmful. The discharge of substances is also different.
Among the series of diesel generator sets of Jiangsu Starlight Power such as Cummins series and Yuchai series, the emission standards of Volvo series diesel generators have reached the national three standards. Regardless of the environmental protection of emissions or the economics of the unit, the National III emissions are products worth starting with.
Jiangsu Starlight Electricity Equipments Co.,Ltd., as an OEM supporting manufacturer authorized by Cummins to provide Chinese diesel generator sets, has professional manufacturing technology, perfect quality management system and strong R&D technical strength. It can provide users with generator sets of various specifications from 15KW to 2500KW. It can also provide users with one-stop service of design, supply, debugging and maintenance at any time. welcome contact us by email sales@dieselgeneratortech.com