Jul. 28, 2021
Through electronically controlled direct injection, common rail, turbocharging, intercooling and other technologies, it has better solved the shortcomings of the original diesel generators, and the advantages of diesel generators in terms of energy saving and CO2 emissions have become "green power generation equipment" that cannot be replaced by all heat engines, including gasoline engines.

I. Instructions for using a new diesel generator.
1. When the new diesel generator is at the initial 2000km (about 40h), the speed of the diesel generator should be limited to within 80% of the nominal speed.
2. For diesel generators used in construction machinery, the diesel generators should work under partial load within the initial 40 hours.
3.Carry out daily maintenance in accordance with the specifications. After the new machine is used, check the oil pressure gauge, temperature gauge, warning light and other instruments to ensure its normal use.
4.The oil pan that has not been filled with lubricating oil should be filled with lubricant according to the regulations, if the cooling system is full of coolant, the performance of the coolant must be checked, if it does not meet the requirements, it should be discharged and refilled to meet the required cooling agent.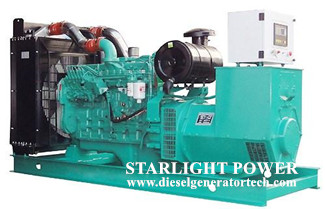 II. Start of diesel generator.
1. Separate the diesel generator from the transmission or place the transmission in a neutral position.
2. Turn the start button to start the diesel generator; in order to prevent damage to the starter and protect the battery, the bite time of the starter should not exceed 30s each time, and the start time should be at least 2min for two consecutive starts.
3. The oil pressure gauge must display the reading within 15s after starting.
4. After the diesel generator is cold-started, the speed should be increased slowly to ensure that the bearings are sufficiently lubricated and the oil pressure is stable.
5. After idling for 3-5 minutes, load and run again.
Jiangsu Starlight Electricity Equipments Co.,Ltd. was founded in 1974, as a wholly-owned subsidiary of Jiangsu Starlight Power Group, it is one of the earliest manufacturers of generator sets in China. Starlight Power has 64 sales services, long-term technical advice for users, free debugging, free maintenance, free training services. For more details, please contact us with sales@dieselgeneratortech.com