Dec. 17, 2021
The internal combustion generator set consists of an internal combustion engine (internal combustion) to form a diesel engine, a gasoline engine and a gas engine. However, unless otherwise specified, it usually refers to the engine of a diesel engine or a gasoline engine, and the power equipment that drives the AC synchronous generator to generate electricity.

Internal combustion engines are currently widely used power generation equipment in the world. They are mainly used for emergency backup power supply for communications, finance, national defense, hospitals, schools, commerce, industrial and mining enterprises and households, mobile communications, independent power supplies for special purposes in battlefields and field work. Such as vehicles and ships, areas where large power grids cannot be transmitted are not suitable for providing independent power sources for production and living in areas where thermal power plants are built.
With the continuous development of science and technology, some new technologies and new achievements have been applied. The internal combustion engine, especially the diesel generator set, is gradually realized by manual starter, finger starter, electric starter (battery starter) and other ordinary generator sets on duty (self-starting, unattended, remote remote control), in order to adapt to the modern society. With higher requirements for internal combustion engines, low-emission and low-noise technologies have been developed.
Composition of internal combustion generator set:
The core of internal combustion generator set is formed by internal combustion engine (diesel or gasoline engine), AC synchronous generator, control box (screen), coupling, common base, etc. In general, a set of production equipment is composed of a common base as the core components, such as internal combustion engine, AC synchronous generator, and control box (screen) as a whole, that is, the overall internal combustion engine group. In addition, the high-power generator set also includes internal combustion engines, power generation devices, etc. on a common base welded by section steel. Equipment such as control panels, fuel tanks, and radiators need to be individually designed for easy movement and installation.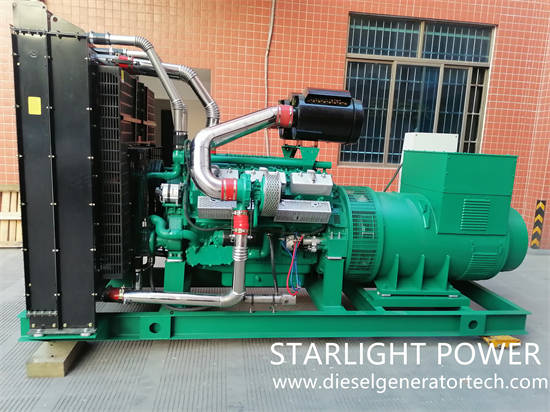 The flywheel shell of the engine uses a shoulder-positioned direct transmission device to axially rotate the flywheel shell of the internal combustion engine and the front cover of the power generating device, and directly use a cylindrical elastic coupling to drive the power generating device to rotate. It is connected by bolts to maintain the symmetry of the crankshaft of the internal combustion engine and the rotor of the generator within the specified range of use.
In order to reduce the noise, the generator set generally needs to install a special silencer, and in special circumstances it is necessary to use full shielding. In order to reduce the vibration of small devices, the joints of core structural parts such as internal combustion engine, power generation device, control room, radiator and the common base are usually equipped with shock absorbers or rubber damping pads. Some control boxes also have secondary damping measures.
Jiangsu Starlight Electricity Equipments Co.,Ltd. is a diesel generator set manufacturer with more than 40 years of production experience. Its main brands include Yuchai generator sets, Cummins generator sets, Volvo generator sets, etc., and 64 sales and service departments nationwide. Users provide one-stop service of design, supply, debugging and maintenance. Welcome contact us by email sales@dieselgeneratortech.com