May. 18, 2020
Starlight Cummins generator adopts Cummins engine of a Sino-US joint venture, which has the characteristics of small size, many specifications, stable performance, convenient parts supply and maintenance and so on. Compared with other brands of diesel generating sets, the advantages of Cummins diesel genset are reflected in its product design and technical advantages.
Basic design features
1. The cylinder block of Cummins generator set is sturdy and durable, with the characteristics of low vibration and low noise;
2. Adopt in-line cylinder block design, stable operation and high efficiency;
3. Replaceable wet cylinder liner, long service life and easy maintenance;
4. Two cylinders with one cover, four valves per cylinder, full air intake, forced water cooling, and small thermal radiation.
Fuel System
Using Cummins PT fuel system, with unique overspeed maintenance device: low-pressure oil pipeline, few pipelines, low failure rate, high reliability; high-pressure injection, sufficient combustion, to ensure that the engine keeps good operation condition under different environment and different working conditions. Also equipped with fuel oil supply and return oil one-way valve, safe and reliable use.
Air intake and exhaust system
Cummins generator is equipped with a dry-type air filter and an air resistance indicator, using an exhaust gas turbocharger, with sufficient air intake and guaranteed performance;
The use of pulse dry exhaust pipe can effectively use the energy of exhaust gas and give full play to the engine performance. The genset is equipped with a large-diameter exhaust elbow and exhaust bellows for easy connection.
For generating sets above 200KW, use stainless steel bellows over 610mm.
Cooling system
Cummins generator set uses gear centrifugal water pump for forced water cooling, large flow channel design, good cooling effect, can effectively reduce heat radiation and noise, and has a unique rotary water filter, which can prevent rust and corrosion, control acidity and remove impurities .
Lubricating system
A variable flow oil pump with a main oil channel signal tube can be used to adjust the amount of pump oil according to the oil pressure of the main oil channel and optimize the amount of oil entering the engine. Under low oil pressure, it can effectively reduce pump oil power loss, improve power performance and the economy of the engine.
Power output
Cummins generator set shock absorbers can be equipped with double-groove power output crankshaft pulleys, and the front end of generator set is equipped with multi-groove accessory drive pulleys, which can be equipped with various front-end power output devices, suitable for the connection and assembly of various transmission requirements.
Loading capacity
The powerful power of Cummins diesel engine makes the diesel generator set have excellent load surge capacity. The load surge capacity of the generator set can reach 80%, and the other models are generally 50%;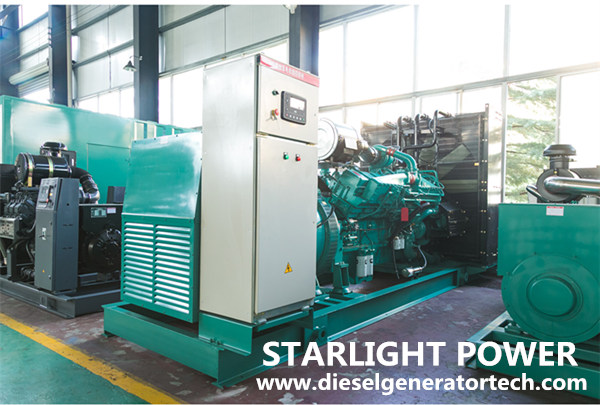 Other advantages of Cummins diesel generators
High reliability: intensified alloy & casting cylinder and Ferrous Cast Ductile (FCD) piston provide engine a better rigidity performance and lower vibration & noise, and also make the engine adapt to higher explosion pressure.
Good fuel economy: Advanced fuel control system, unique STC, ESTC step control system, specially-designed piston top chamber and high pressure fuel injection lead to an excellent fuel consumption rate and emission performance of engine.
Excellent transient performance: perfect overall engine design with unique Cummins EFC system, high precision on control and quick response time.
High lift power: Integrated and compact design, reasonable layout and smooth operation.
Electric fuel injection engines (QSNT, QSK19, QSK38, QSK50, QSK60) meet the Tier3 emission regulations for China non-road vehicles and Tier2 & Tier3 emission regulations of North America.
Good availability of spare parts, smooth engine operation, convenient engine maintenance and low cost.
Due to the advantages of Cummins generator set, it is widely used in backup power supply, self-provided power supply, alternative power supply and mobile power supply. As OEM supporting manufacturer of Cummins diesel generating sets, Starlight Cummins generators are widely used in large projects such as engineering, petroleum, electricity and transportation.
Starlight Power manufactures 25KVA to 2500KVA Cummins diesel gensets with high quality and good performance. AC generators can choose Stamford, Leoy-Somer, ENGGA, Marathon, Siemens, Shanghai KEPU and our own brand alternator – Starlight. Both open type generator and silent type generator powered by Cummins engine are available.
If you are interested in our Cummins diesel generator, please send us an email to obtain the latest quotation. Starlight email address: sales@dieselgeneratortech.com.