Oct. 09, 2021
Diesel generator set is a kind of medium and small power generation equipment, which is suitable for various occasions and units that cannot be transmitted by the mains power grid. It is used as the main power source for power and lighting. For areas with mains power, some have high reliability of power supply. Units or important departments that do not allow power outages or require rapid restoration of power supply within a few seconds can be used as emergency backup power sources. Once the mains power fails, they can quickly provide stable AC power. Most diesel engines used for power generation are variants of general-purpose or other-purpose diesel engines. They have the following characteristics:

1. The AC frequency is fixed at 50Hz, so the speed of the unit can only be 3000r/min, 1500r/min, 1000r/min, 750r/min, 500r/min, 375r/min and 300r/min, with 1500r/min being the majority.
2. The output voltage of the diesel generator set is 400/230V (6.3kV for large units), the frequency is 50Hz, and the power factor cosφ is 0.8.
3. A wide range of power changes. The power of diesel engines for power generation can vary from 0.5m to 10000KW. Generally speaking, diesel engines for power generation with power in the range of 12 to 1500kW are used as mobile power stations, backup power sources, emergency power sources, or common power sources in rural areas. Stationary or marine power stations are used as common power sources, and their power can reach tens of thousands of kilowatts.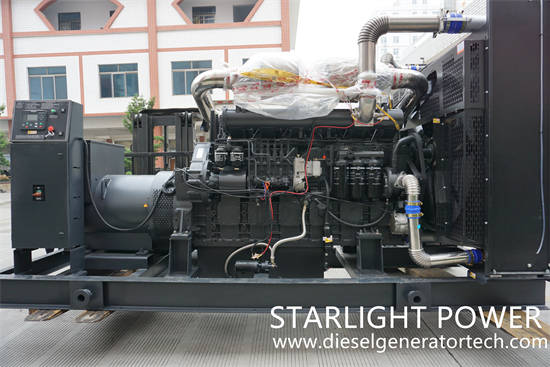 4. Have a certain power reserve. Diesel engines for power generation generally operate under stable conditions and have a relatively high load rate. Emergency and backup power sources are generally calibrated to 12h power, and common power sources are calibrated to continuous power. The matching power of the unit should be deducted from the transmission loss and excitation power of the motor, and a certain power reserve should be reserved. Therefore, the matching power of the unit should be divided by the diesel engine power by the matching ratio.
5. Equipped with speed regulating device. In order to ensure the stability of the output voltage and frequency of the generator set, a high-performance speed regulating device is generally installed. For units running in parallel and integrated into the power grid, a speed fine-tuning device is installed.
6. It has high power supply reliability and automation functions. The more complete emergency power station has the functions of self-starting, automatic loading, automatic fault alarm and automatic protection. The generator set can be operated fully automatically, without the need for operators, and can be unattended.
Jiangsu Starlight Electricity Equipments Co.,Ltd. is a manufacturer of professional generators, diesel generator sets, Cummins generator sets, Volvo generator sets, etc. The company has advanced testing equipment, excellent production technology, professional manufacturing technology, perfect quality management system, and Strong R&D technical strength. It can provide 15KW-2500KW various specifications of universal, automatic, four protection, automatic switching, low noise and mobile, etc., high-quality, low-energy generating sets to meet customer power needs, and can also meet users' different voltages and different frequencies, as well as the power supply system of multiple units connected in parallel, welcome customers to inquire. For more details, please contact us with sales@dieselgeneratortech.com