Dec. 11, 2021
The noise of large-scale high-performance diesel generator sets often becomes the main pollution source of ambient noise. The current society has increasingly higher requirements for environmental protection, and how to effectively control its noise pollution is a challenge. The muffler is a better component for reducing noise pollution in diesel generator sets. The muffler of diesel generator sets has the following characteristics:

1. The muffler is generally composed of muffler tube, muffler film, upper and lower sealing plate (or head), rain cover, throttle valve tube, throttle valve plate, connecting tube (or flange), support, lifting ring, nameplate and other parts.
2. It has the characteristics of convenient and quick installation and use, obvious noise reduction effect, and long service life.
3. The muffler can be independently supported, and can expand freely during operation and shutdown, so that the exhaust steam pipeline will not suffer additional load due to the installation and use of the silencer, and ensure the safety, reliability and stability of the exhaust pipeline operation.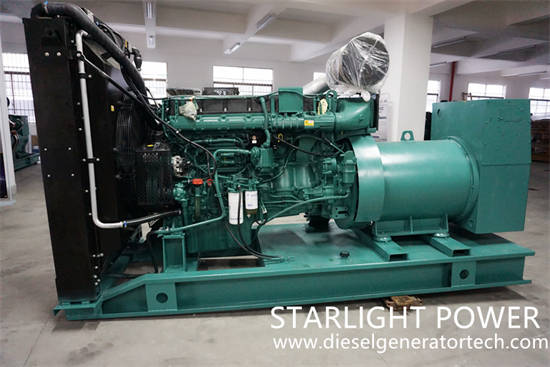 The muffler is made of high-quality carbon steel or high-quality stainless steel plates and other raw materials, which have a certain degree of heat resistance and corrosion resistance, making the facility durable for a long time.
The noise of large diesel generators generally includes engine exhaust noise, intake noise, combustion noise, mechanical noise caused by reciprocating high-speed movement and impact of moving parts such as connecting rods, pistons, and gears during operation, and airflow noise of cooling water exhaust fans. The overall noise of diesel generator sets is very high, depending on the output power level, usually as much as 100-125dB (A).
Noise treatment methods for diesel generators include noise reduction solutions for air intake, exhaust, and gas exhaust channels, sound absorption solutions in the engine room, and sound insulation solutions in the engine room. The damping generator muffler is a sub-cavity intubation frame with a grid-hole damper to eliminate the impact mechanical vibration and vortex caused by the airflow in the muffler several times, reducing the exhaust noise and turbulence. The necessary output power loss.
There are many types of generator silencers, but after studying the silence mechanism, they can be divided into 7 general categories, namely resistive silencer, resistant silencer, impedance composite silencer, micro-perforated plate silencer, and small holes silencer, silencer and damping silencer.
Jiangsu Starlight Electricity Equipments Co.,Ltd. is one of the earliest manufacturers of generating sets in China. It has first-class testing equipment, advanced production technology, professional manufacturing technology, perfect quality management system, and strong R&D technical strength. It can provide 3KW-2500KW various specifications of universal, automatic, four protection, automatic switching, low noise and mobile, etc., high-quality, low-energy generating sets to meet all customers' power needs, and can also meet users' different voltages and different frequency requirements, as well as the parallel-connected power supply system of multiple units, use excellent talents to build excellent enterprises, create excellent products, create excellent services, and strive to build excellent domestic enterprises. For more product details, please contact us with sales@dieselgeneratortech.com