Sep. 27, 2021
After a diesel generator set has been in operation for a period of time, various failures may occur, and failure to start is one of them. Many users are not sure why this is the case for diesel generator sets. Jiangsu Starlight Electricity Equipments Co.,Ltd. will introduce the reasons for the difficulty in starting diesel generator sets from the following four aspects.

1. Any leakage of fuel, coolant or engine oil.
Due to the smell they produce, fuel leaks can usually be seen during regular maintenance. If they are discovered after the diesel generator is running, the problem may be a fuel pump failure or a damaged fuel line. Oil leakage occurs due to wet accumulation. This situation is due to the fact that carbonized fuel is injected into the tip to produce oil, fuel and different fluids in the exhaust pipe of the generator, and the crankcase breather will emit when exhausting too much oil.
2. The generator set cannot be started due to a battery failure.
Battery failure is the most common cause of diesel compressor generator failure. Many times, battery failures occur due to unsafe connections or the development of sulfates. This is the situation where lead sulfate accumulates on the surface of the battery plate. The coating on the lead plate of the battery may be due to the large discharge of sulfur particles in the electrolyte. When enough plate surface is sulfated, the battery will not provide enough current and should usually be replaced.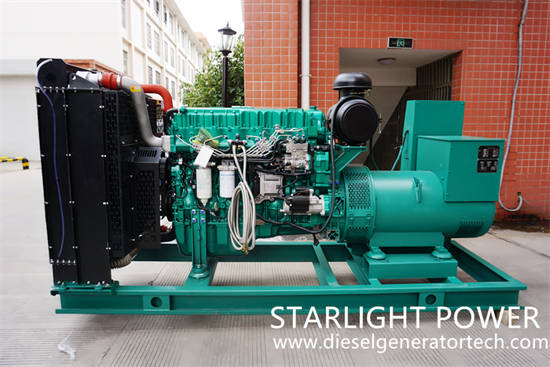 3. If the fuel tank is empty, the generator cannot be started.
Mechanical fuel level gauges can often be inaccurate. Unlike vehicles that move and utilize the higher part of their fuel tank volume, the diesel compressor generator fuel tank does not move, so that the fuel is eventually immobilized. Mechanical instruments may also persist to the point where vibrations can cause them to break away under certain circumstances.
4. If the coolant volume is at a low point, the generator set cannot be started either.
The most obvious cause of low coolant level may be external or internal leakage. It is vital to carefully consider any obvious coolant puddles during weekly inspections. Diesel compressor generators usually shut down when they overheat. When the generator's coolant is insufficient, it will not work for a long time.
Jiangsu Starlight Electricity Equipments Co.,Ltd. is a manufacturer of professional generators, diesel generator sets, Cummins generator sets, Volvo generator sets, etc. The company has advanced testing equipment, excellent production technology, professional manufacturing technology, perfect quality management system, and Strong R&D technical strength. It can provide 15KW-2500KW various specifications of universal, automatic, four protection, automatic switching, low noise and mobile, etc., high-quality, low-energy generating sets to meet customer power needs, and can also meet users' different voltages and different frequencies, as well as the power supply system of multiple units connected in parallel, welcome customers to inquire. For more details, please contact us with sales@dieselgeneratortech.com