Aug. 19, 2022
When there is no problem and all kinds of equipment of the enterprise can run, they do not think that configuring diesel generators is an important and necessary thing, and even think that buying a generator set is a waste. In this case, without knowing the importance of configuring diesel generator sets, it is easy to get into a bad state on the day when the power outage is urgent. Is it necessary to buy a generator set? In the early days, we often talked about how to get through the tough days of blackouts, how blackouts happen, and how to simply prevent or minimize the damage caused by them. It is necessary for diesel generator sets to take preventive measures in the event of a power outage. While some outages last only minutes to hours, sometimes outages can last for days or more.

That is to say, a long-term power outage may have a great adverse impact on the continuous operation and business development of the enterprise, and may lead to different degrees of losses. Today, Dingbo Power tells you that power outages may affect the operation and business development of your business. Various negative impacts, and how to minimize or completely address the impact of a power outage.
Customers and revenue fell.
When the mains power supply stops and there is no other backup power supply such as diesel generator sets, the daily production and operation cannot be carried out normally. Power outages can impact product inventory turns and sales. The longer the power outage is during a power outage, the less product will be sold. Hence, this will lead to an increase in your business working capital. When this happens, your business will lose customers and revenue because the power outage will not be able to mass-produce products to customers on time, provide services to sell, all of which will prevent your customers from buying services or products. Even if the power outage is temporary, it costs money unnecessarily. The longer the outage, the more damage to your business reputation. Once you get to a certain stage, the public will have a bad impression of your business and strength.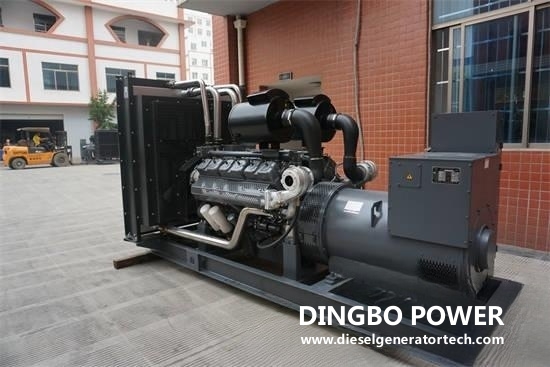 Product productivity is reduced and work efficiency is reduced.
Power outages often cause equipment to stop functioning and computers to stop. The longer the time, the more it will affect the work efficiency. If there is no suitable backup power equipment, such as diesel generator sets, during the power outage, then the business cannot operate and complete production tasks as usual.
Loss of customer data or other important files.
Computer viruses, software corruption, and human error are all causes of computer data loss, including power outages. When the utility grid fails or loses power, it can happen when you transfer and collect files or even read them. A power outage can cause your files to be lost or corrupted, or in the worst case damage your hard drive and shorten its lifespan.
Damage equipment or machinery.
Last but not least, a power outage can cause long-term damage to your equipment. A sudden shutdown can be one reason, but the main reason is a voltage surge that occurs when power is restored. Without any implemented protection or backup power, equipment can be easily damaged. In this case, damage is inevitable and you must seek maintenance to restore the device to its original condition. Depending on your equipment, you will have to seek out different repairs, such as motor overhaul or distribution transformer repair.
Power outages can happen when you least expect them, and the consequences can hurt your business. While this is unavoidable, understanding these negative impacts will help understand why preventive measures or actions are needed after a power outage. Therefore, to ensure that businesses are not affected by these negative impacts, opting for diesel generator sets may be the best backup power solution. If you are troubled by power failure, or are looking for a backup power supply, Dingbo Power will provide you with a reliable and stable backup power supply, and a large number of different power models of well-known brand diesel generator sets can be delivered in real time to meet the needs of backup power equipment.
Guangxi Dingbo Power Equipment Manufacturing Co., Ltd. is one of the earliest manufacturers of generators and diesel generator sets in China. The company was established in 2006 and the company occupies an area. It has 24 sales and service departments across the country to provide users with one-stop service of design, supply, debugging and maintenance at any time. Welcome customers to come to consult and visit. Looking forward to your inquiry, please send email to us for details sales@dieselgeneratortech.com.