Sep. 28, 2023
Do you know the impact of not cleaning the air filter or replacing the filter element in a timely manner on diesel generators? The air filter is an important component of the diesel engine supply system, which can purify the air entering the trachea. If the air filter is not maintained in a timely manner, it can cause early wear and tear on cylinder liners, piston rings, intake and exhaust valves and other parts, resulting in a decrease in engine power and even shortening the service life of diesel engines. Experiments have shown that diesel generators without air filters have an 8-fold increase in cylinder wear, a 9-fold increase in piston ring wear, and increased wear on other components. If the air filter is not maintained in a timely manner or with poor maintenance quality, the effectiveness of the filter will significantly decrease.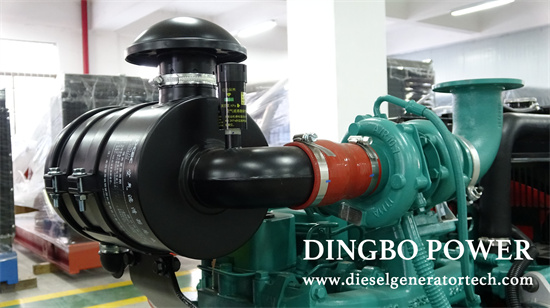 Some operators, in order to save fuel, do not install an air filter, or do not replace it in a timely manner when the filter is damaged, or do not replace the connecting hose in a timely manner after aging or damage, all of which will cause a large amount of impurities in the air to enter the cylinder, exacerbating the wear and tear of the components. Due to the mixing of dust, moisture, and other impurities into the fuel during storage, transportation, and use, and the oxidation and gelation of the fuel, it can exacerbate cylinder wear and cause early engine damage. In fact, the wear of precision components in the diesel generator oil supply system is mainly caused by the presence of hard abrasive particles in the diesel.
Therefore, strengthening the sedimentation and filtration of diesel can greatly extend the service life of precision components. If the diesel filter element is not regularly cleaned and replaced, and the diesel tank is not regularly cleaned, it will cause blockage in the fuel supply system, resulting in insufficient fuel supply. At the same time, it will also cause wear and tear of precision components of the fuel injection pump and injector due to unclean diesel.
Guangxi Dingbo Power Equipment Manufacturing Co.,Ltd was founded in 1974 and is one of the earliest manufacturers of generators and diesel generator sets in China. The company has a registered capital of 218.88 million yuan. The company covers an area of 86,000 square meters and a building area of 55,000 square meters. There are more than 660 employees, including 456 professional technicians and 106 senior technicians. It has 46 sales and service outlets nationwide. The main products are diesel engines, generator sets, and diesel generators, providing users with a one-stop service of design, supply, debugging and maintenance at any time. Dingbo has always insisted on using first-class talents, building first-class enterprises, manufacturing first-class products, creating first-class services, and making every effort to build a first-class domestic enterprise. If any question please feel free to visit our website https://www.dieselgeneratortech.com/ or send email to sales@dieselgeneratortech.com.