Feb. 21, 2023
Today, let's briefly introduce the content about the role of the capacitance of Cummins diesel generator. What else do you need to know about this? Welcome to visit our Starlight website. Next, let's introduce relevant information to you.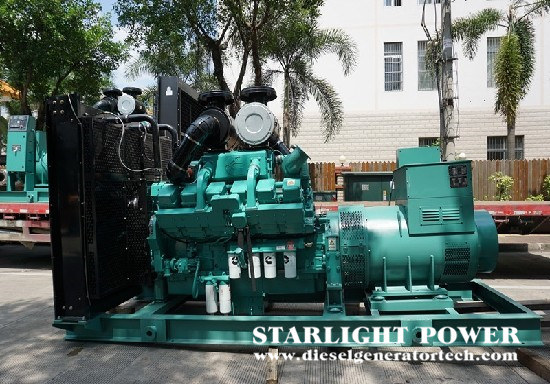 The diesel Cummins diesel generator can be divided into synchronous and asynchronous Cummins diesel generators. When the load power factor is relatively low, the external circuit and capacitance can play the role of reactive compensation, improve the power factor, reduce the circuit current, and reduce the line loss. The asynchronous Cummins diesel generator can be understood as an ordinary asynchronous motor. There are only short circuit coils on the rotor, usually multiple aluminum bars, It is not necessary to excite the rotor by DC electric energy. It is necessary to connect the capacitor to the output line of the stator. The capacitor current generated by the capacitor charging and discharging function strengthens the residual magnetism of the rotor.
Therefore, the asynchronous Cummins diesel generator must have a capacitor to provide current for the rotor excitation to generate electric energy, and the capacity of the capacitor needs to increase or decrease with the load, so that the output voltage can be kept basically constant. In addition to reactive compensation capacitance, the synchronous Cummins diesel generator does not need additional capacitance to excite. Its rotor is embedded in the coil, which is excited by DC electric energy.
Since 1982, Starlight Generator has been a generator set manufacturer qualified by the "National Internal Combustion Engine Quality Supervision and Inspection Center". The product quality has passed the IS09001 quality system standard certification. And obtained the qualification certificate for self-operated import and export. Over the years, starlight units have been widely used in all walks of life, and have won the network access qualification of the Ministry of Information Industry, the network access qualification of the Ministry of Radio and Television, the network access qualification of CNPC, the network access qualification of China Mobile, and the manufacturing qualification of marine units. In 2016, Starlight was awarded the Certificate of Qualified Supplier of China Nuclear Power Group. Starlight Generator has been cooperating with Shangchai Power for many years. In 2009, it became the OEM partner of Shangchai Power in China. Starlight generator VOLVO unit ranks the top three in the Asia-Pacific sales volume, and is the core OEM partner of Sweden Volvo VOLVO in the Asia-Pacific region. If any question please feel free to visit our website https://www.dieselgeneratortech.com/ or send email to sales@dieselgeneratortech.com.