May. 27, 2022
Unlike portable generators, which often have many different circuit breakers, allowing users to fine-tune their power needs to meet different voltage and current requirements, stationary generators usually have one main circuit breaker. In some cases, customers may choose to install two circuit breakers. One acts as a main circuit breaker for specific voltages and one acts as a life safety circuit breaker for specific life safety requirements.

Accessibility.
While portable generators are readily available in the market to be transported from one location to another and from workplace to workplace, stationary generators are installed in one location, not moved. When installing stationary generators, they need a concrete pad, need to be connected to a transfer switch within the facility, and also need to be connected to the main switchboard.
Alternator.
In some cases, there are fixed generators that are set to a specific voltage. This means that the wires connected to the alternator cannot be reconnected and cannot be converted to a different voltage. Most portable generators enable users to quickly switch to different voltages based on power needs thanks to the voltage selector switch, while stationary generators must have an alternator that allows the generator to be reconfigured. This can be verified when checking the generator's spec sheet, or confirm with the generator manufacturer.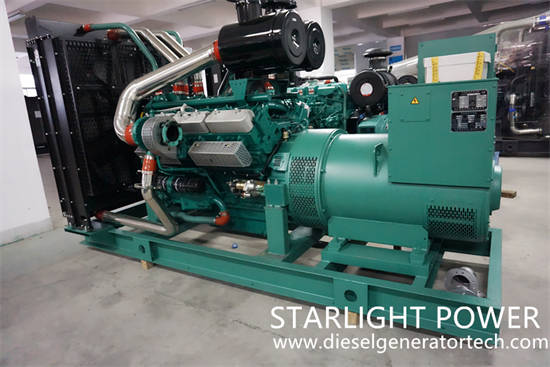 After reviewing these key differences, one might wonder why a business would choose to install a stationary generator rather than a portable one. Due to the overall cost, stationary generators are often the long-term power solution for many businesses and facilities. The cost will eventually add up over time if you rely heavily on a portable rental generator from the dealer. It's important to pay attention to the regular outlays on rental costs and assess whether buying and installing a stationary generator is more cost-effective in the long run than renting generators on an ongoing basis. Stationary generators also offer users the flexibility to use different fuel types other than diesel. Depending on your location, this is important, especially if natural gas is cheaper than diesel. This can reduce the cost of generator fuel supply. Another reason a business might decide to use a stationary generator is peace of mind. If you have signed a rental contract with a generator dealer, you still need to ensure that the generator will be delivered on time, quickly, and installed correctly. When a stationary generator is matched with an automatic transfer switch (also known as an ATS), it ensures that the generator starts when a power outage is detected and shuts down when the mains grid returns.
If you would like to learn more about stationary generators, or would like to purchase one for your business/facility, please feel free to contact Starlight Power! We have industry experts specializing in consulting and sales, who can not only guide you in selecting generators, but also guide and install generators for you on site.
Jiangsu Starlight Electricity Equipments Co.,Ltd. is a manufacturer of professional generators, diesel generator sets, Cummins generator sets, Volvo generator sets, etc. The company has advanced testing equipment, excellent production technology, professional manufacturing technology, perfect quality management system, and Strong R&D technical strength. It can provide 15KW-2500KW various specifications of universal, automatic, four protection, automatic switching, low noise and mobile, etc., high-quality, low-energy generating sets to meet customer power needs, and can also meet users' different voltages and different frequencies, as well as the power supply system of multiple units connected in parallel, welcome customers to inquire. For more details, please contact us with sales@dieselgeneratortech.com.