Mar. 22, 2022
A diesel generator is a device that replaces the usual power source in the event of a power outage. They vary in configuration and power, depending on the actual needs of the business, their capacity will vary depending on the type of use and the area supported by the power it generates.

Most generators seen in industry run on diesel. It does not generate direct electricity, but the necessary mechanism installed in it converts the chemical energy of diesel into kinetic energy, which is then converted into electricity through the same mechanism, it has several advantages and is widely used worldwide in residential areas, commercial and industrial sectors.
High Performance Level: Diesel engines are manufactured with mechanisms that allow them to withstand all weather conditions and maintain their performance for long periods of time without maintenance. They are known to be tolerant of high failures and are therefore the electrical equipment preferred by most industries, as the main power supply is often faced with failures.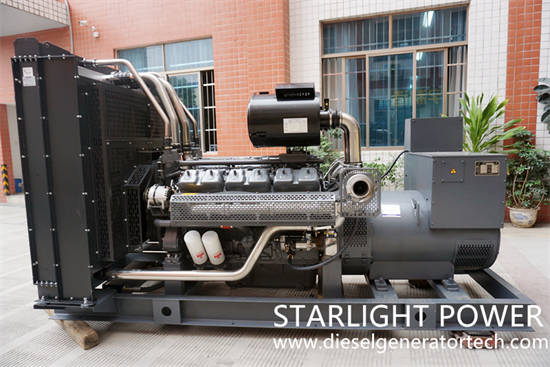 Cheaper fuel: Diesel is considered cheaper than gasoline and is suitable for all industries, be it residential or industrial. If you use them for industrial purposes, you will see lower production costs, which in turn lowers the price of the final product.
Availability: Diesel is a readily available non-renewable resource. Diesel can be purchased from almost anywhere in the world, making it the most economical backup power solution.
Easy availability of technicians: Unlike other machines, you can easily hire a technician or mechanic to service the equipment should it fail. Diesel generator parts are readily available and can be easily replaced to function as before. Diesel generator parts aren't expensive because it's ubiquitous.
Multipurpose: Since Starlight Power diesel generators can be used for any purpose, Starlight Power diesel generators can be used commercially for longer periods of time for geographic locations where there is no source of electricity.
Founded in 1974, Jiangsu Starlight Electricity Equipments Co.,Ltd. is a wholly-owned subsidiary of Jiangsu Starlight Power Group. It is one of the earliest manufacturers of generator sets in China. Starlight Power has 64 sales and service departments, which provide users with long-term technical advice, free debugging, free maintenance, and free training services. Looking forward to your inquiry, for more details, please contact us with sales@dieselgeneratortech.com