Dec. 18, 2021
Diesel generators are practical equipment in many different situations. They are usually used as backup power sources when there is a power outage or cannot be directly connected to the grid. Let's look at a few of the most popular types:

Business
Generators are often used in commercial environments. For example, the workforce in the workplace may be in an environment that does not provide alternative energy sources. Any commercial unit has a very large demand for emergency power, and diesel generators can generate a large amount of electricity for a long period of time.
Jiangsu Starlight Electricity Equipments Co.,Ltd. reminds you that the power output of different models may be very different. The rated power is classified according to the total wattage used. Diesel generators used in restaurants, bars or similar commercial environments can output up to 30 kilowatts of electricity. However, if you only need to run a few power tools on the job site, a portable generator with a rated power of 3000 watts may be sufficient.
Home
A household generator is a much smaller machine. They are usually used at home as a stopgap measure in the event of a power outage. For those who have medical-related issues and need continuous power supply, a generator can be installed at home. For most homeowners, a generator rated at 3000 to 6500 watts may be sufficient to keep appliances and lights on during a power outage.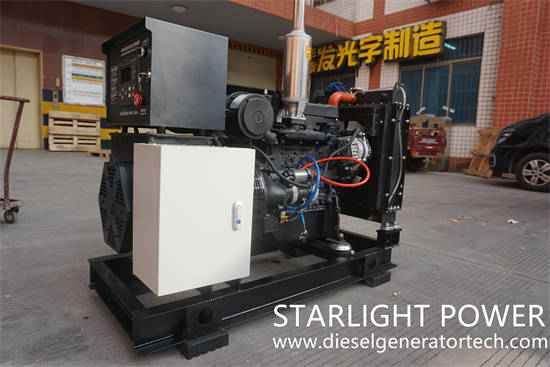 In addition, when considering a generator used in a domestic environment, the noise level of the generator is an important factor. Most diesel generators are marked with a decibel number. A 60 to 70 decibel generator may interfere with your normal life at home.
How about the cooling system?
In order to operate efficiently and avoid overheating, the diesel generator has a built-in cooling system. There are two main types of cooling systems, but the water cooling system is the most durable.
Water cooling
The water-cooled generator is equipped with a radiator and wear-resistant pipes to allow water to flow through the engine when the engine is running. However, it is necessary to check the water level regularly. In addition, they usually require more routine maintenance than air-cooled systems (an alternative).
Air-cooled
Air-cooled generators rely on air to keep the machine's operating temperature within an acceptable range. The generator has a built-in special system to help increase the intake air volume to the required level.
Jiangsu Starlight Electricity Equipments Co.,Ltd. is a manufacturer of professional generators, diesel generator sets, non-moving generator sets, Cummins generator sets, Volvo generator sets, etc. It has 64 sales and service departments across the country, providing users with design, supply, debugging, and maintenance at any time. Welcome customers to come to consult and visit. Looking forward to your inquiry, please send email to us for details sales@dieselgeneratortech.com