Nov. 25, 2020
Starlight Power is authorized as OEM supplier of Volvo PENTA diesel engine for generator set, has cooperated with Volvo PENTA company for many years. Today Starlight Power shares technical specification of Volvo 250kw generator set.
1.Diesel generator set technical specification
Genset model: XG-250GF
Prime power: 250KW Standby power: 275KW
Rated voltage: 230/400V( or as you required)
Speed: 1500rpm Frequency: 50Hz Power factory: 0.8lag
Start up time: 5~6s
Steady state voltage regulation rate: ≥±2.5%
Transient voltage regulation rate: ≤+25% , ≥-15%
Voltage stability time : ≤3s
Frequency stability time: ≤5s
Steady state frequency regulation rate: ≤0.5%
Frequency volatility rate: ≤1%
Emission standard: EU STAGE II/EPA TIER 2
Alternator options: Stamford, ENGGA, Siemens, Marathon, Leroy Somer, Shanghai Kepu, as well as Starlight brand.
Controller options: SmartGen or Deep Sea ( automatic controller, LCD display)
Options: Parallel cabinet, ATS, spare parts etc.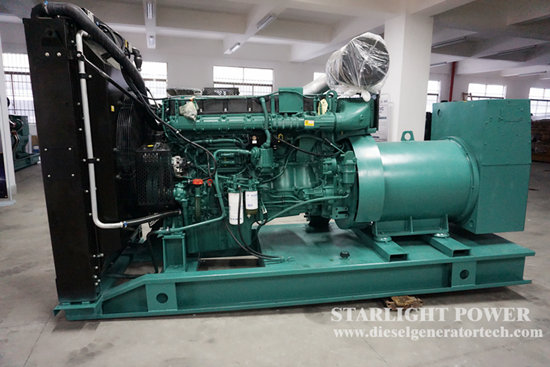 2.Diesel engine Volvo TAD1341GE datasheet
Model: Volvo PENTA TAD1341GE Prime power: 277KW Standby power: 298KW
Turbocharged, 6 cylinder. In-line four stroke diesel engine with direct injection. Rotation direction, anti-clockwise viewed towards flywheel.
Bore x Stroke: 131x158mm
Displacement: 12.78L
Compression ratio: 18.1:1
Lubrication system
Lubricating oil consumption: 0.04L/h
Oil system capacity including filters: 36L
Oil sump capacity: max. 30L
Oil pressure at rated speed: 370-520kPa
Lubrication oil temperature in oil sump: 130℃
Fuel system
Fuel consumption: 100%: 191g/kW.h 75%: 195g/kW.h 50%: 202g/kW.h
System supply flow at: 90L/h
Fuel supply line max pressure, engine stopped: 20kPa
System return flow: 18L/h
Governor type/make, standard: Volvo / EMS 2.2
Injection pump type/make: Delphi E3
Intake and exhaust system
Air consumption at (+25°C and 100kPa): 22.7m3/min
Max allowable back pressure in exhaust line: 9kPa
Cooling system
Coolant: Volvo Penta coolant "ready mix" or Volvo Penta coolant mixed with clean fresh water 40/ 60.
Radiator cooling system type: Closed circuit
Coolant capacity(engine): 20L
Above information is only a part of full technical specifications. If this 250KW diesel generator is your need, welcome to contact us for details. We will work with you.
Features of Volvo engine TAD1341GE
- Excellent load acceptance
- Highly efficient, belt‐driven coolant pump
- Piston cooling for low piston temperature
- Easily accessible service and maintenance points
- Cast‐iron cylinder block
- Electronic, high‐pressure unit injectors
- Electronically controlled, wastegate turbo
- A wide selection of optional equipment
Starlight Volvo generators power range is from 68KW to 616KW, including open type, silent type, canopy type, container type, trailer type etc. They can be exported to all over the world. Of course, Starlight also has other brands: Cummins, Perkins, Deutz, Yuchai, Shangchai, Weichai, Wuxi, Ricardo, Doosan, MTU etc. All product has approved CE and ISO certification.
With good quality product and professional after-sales support, Starlight Power has got a lot of good feedback from clients. Welcome to contact us by email sales@dieselgeneratortech.com, if you have purchasing plan of generator sets.