Aug. 17, 2020
Starlight Power is OEM supplier of Cummins diesel engine for genset in China. Starlight Cummins diesel genset power range is from 20KW to 1500KW. Emissions standard can meet Stage II and Stage III in China, which is be equal to EU Stage II and EU Stage III. Today Starlight Power mainly shares technical specifications of 300KW DCEC Cummins generator set.
Dongfeng Cummins Engine Co.,Ltd.( DCEC) is a engine manufacturer in China, who is joint ventures with USA Cummins. DCEC Engine quality is same as USA Cummins.
1.300KW diesel generator set technical data
Manufacturer: Starlight Power Make/brand: China/Shuangtong
Genset model: XG-300KG
Type: Open type/silent type
Genset prime/standby power: 300KW/330KW
Rated frequency: 50Hz/60Hz Rated speed: 1500rpm
Rated current: 540A Rated voltage: 230/400V or as you need
Steady state voltage regulation rate: ≥±2.5%
Voltage stability time: ≤3s
Voltage fluctuation rate: ≤ ±0.5%
Steady state frequency regulation rate: ≤0.5%
Accessories include battery(maintenance free), silencer, base bottom fuel tank for 8 hours operation (for silent type genset), shock-reducing rubber, user manual etc. Open type genset also can be equipped with base bottom fuel tank if required.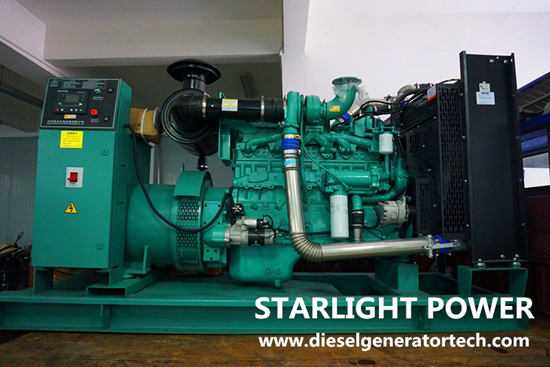 2.DCEC Cummins diesel engine QSZ13-G6 technical data
Manufacturer: Dongfeng Cummins Engine Co.,Ltd.
Model: QSZ13-G6
Prime/standby power: 328KW/374KW @1500rpm
Prime/standby power: 360KW/410KW @1800rpm
Compression Ratio: 17:1
Cylinders: 6
Bore and stroke: 130x163mm
Displacement: 13.0 L
Aspiration: Turbocharged & Charge Air Cooled
Emission Certification: Euro StageIIIA/ MEP StageIII
Governor Regulation: ≤1%
Fuel consumption at prime rating power: 1500rpm: 100%: 81.8L/h 75%: 64.6L/h 50%: 46.9L/h
1800rpm: 100%: 88.7L/h 75%: 68.8L/h 50%: 50.2L/h
ENGINE MOUNTING
Maximum static mounting surface bending moment
Rear face of block: 1356N.m
Maximum static bending moment of FAN: 21 N.m
Maximum allowable weight on Engine Support: 1500 kg
EXHAUST SYSTEM
Max. back pressure imposed by complete exhaust system: 13kPa
Maximum allowable static bending moment at exhaust outlet flange: 19N.m
Exhaust pipe size (recommendatory): 13mm
LUBRICATION SYSTEM
Oil pressure @ idle - minimum: 82.7kPa
Typical oil pressure range - warm engine: 207 - 300 kPa
Total system capacity (standard pan):75.33 L
Maximum lube oil flow to all accessories: 7.57L/min
COOLING SYSTEM
Coolant Capacity (Engine Only): 23.1L
Engine coolant circuit thermostat opening temperature: 82℃
Engine coolant circuit thermostat fully open temperature: 94℃
Maximum coolant temperature - engine out: 102℃
Minimum operating block coolant temperature: 71 ℃
Maximum coolant temperature for engine protection controls: 107℃
Maximum coolant pressure(exclusive of pressure cap; closed thermostat at maximum no load speed): 407kPa
Minimum pressure cap rating at sea level: 103kPa
Maximum Coolant Friction Head External to Engine: 75kPa
Maximum deaeration time: 25min
Minimum fill rate (low level alarm required for most engines): 19L/min
Maximum coolant expansion space (% total system capacity): 10%
FUEL SYSTEM
Maximum allowable restriction @ OEM point with maximum fuel flow: 13.5 kPa
Maximum fuel drain restriction (total head) before (or without) check valve: 27kPa
Minimum fuel tank venting requirement: 0.2 L/s
Maximum fuel inlet temperature: 71 ℃
Maximum heat rejection to return fuel: 5.36kW
Maximum design fuel flow: 204 kg/h
ELECTRICAL SYSTEM
System voltage: 24V
Minimum battery capacity-cold soak at -18 C (0 F) or above
Engine only cold cranking amperes: 900CCA
Engine only reserve capacity: 270min
Exhaust Emissions Data
Gaseous Emissions per GB 20891-2014: 1500 r/min
- Weight-Specific NOx+HC: 3.430g/kW.h
- Weight-Specific CO: 0.630g/kW.h
- Weight-Specific Particulates: 0.063g/kW.h
3.Advantages of Starlight DCEC Cummins diesel generator set
A.Fuel economy, high thermal efficiency. When the working condition changes, the fuel consumption rate curve changes relatively flat, and it is economical under low load.
B.Reliable and durable, low fault rate.
C.Wide application range.
D.Low harmful emissions.
E.Long service life, low noise.
Starlight Cummins diesel generators are more popular all over the world. Of course, we also have other brands, such as Perkins, Volvo generators, Yuchai, Shangchai, Weichai, Ricardo, Wuxi etc, power ragnge is from 20kw to 2500kw, If you have purchase plan, welcome to contact us by email sales@dieselgeneratortech.com or call us +8613481024441, we will work with you.