Jan. 18, 2019
If you don't know about China Yuchai and its product - land gas engines technical characteristics, this article will guide you to learn more information.
R&D Ability
Each model platform is developed in cooperation with foreign top R&D institutions and companies.

R&D Achievements
The first one mastered the matching calibration technology of electronically controlled diesel engines and broke through the technical barrier abrod.
The first company independently developed the diesel engine controller ECU and successfully applied it in batches, filling the domestic gap.
The first company to launch National 3/4/5/Euro 6 emission standard diesel engines is 3 to 5 years ahead of the national mandatory emission standard.
The first to introduce a four-valve diesel engine provides users with clean, low fuel consumption power.
The world's first renewable air hybrid engine.
The first LNG all-electric pusher in China - the Star of the Canal
The first LNG tourist ship - Dongjiang Lake
Manufacturing Level
Equipment level: Yuchai has more than 6,000 sets of main equipment; more than 300 sets of high-precision equipment imported from Germany and Japan; the company's overall equipment scale and technical level are leading.
Production capacity: Yuchai is capable of producing 600,000 light, medium and heavy diesel and gas engines; it is the largest internal combustion engine production base in China, the single-unit diesel engine output is in the world first.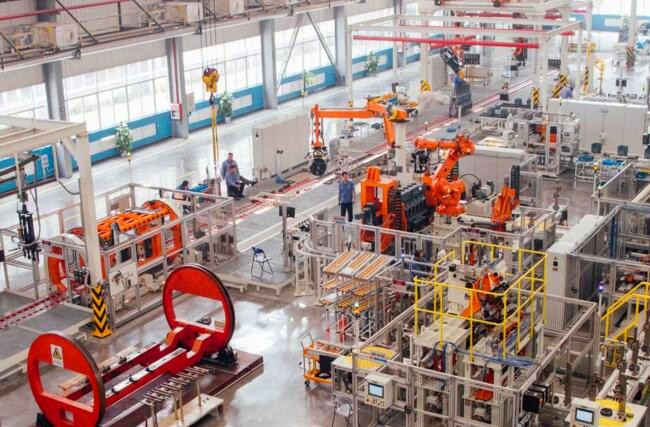 The gas generator power is divided into natural gas engine, biomass gas (such as biogas, straw gas, etc.) engine, gas and so on according to the gas source.
Developing gas-fired power generation is an effective measure to cope with increasingly stringent emission.
Emission limits for non-road mobile machinery diesel engines in China are becoming more and more stringent.
The emission limit (Stage III) for China's non-road mobile machinery diesel engines, which came into effect on October 1, 2015, is close to the European Stage III A and US EPA T3.
China's non-road mobile machinery diesel engines emission limits (Stage III & IV)
Stage

Rated Net Power (Pmax) KW

CO

(g/kWh)

HC

(g/kWh)

NOX

(g/kWh)

HC +NOX

(g/kWh)

PM

(g/kWh)

Stage III

Pmax > 560

3.5

-

-

6.4

0.20

130≤Pmax≤560

3.5

-

-

4.0

0.20

75≤Pmax<130

5.0

-

-

4.0

0.30

37≤Pmax<75

5.0

-

-

4.7

0.40

Pmax<37

5.5

-

-

7.5

0.60

Stage IV

Pmax >560

3.5

0.40

3.5,0.67(1)

-

0.10

130≤Pmax≤560

3.5

0.19

2.0

-

0.025

75≤Pmax<130

5.0

0.19

3.3

-

0.025

56≤Pmax<75

5.0

0.19

3.3

-

0.025

37≤Pmax<56

5.0

-

-

4.7

0.025

Pmax<37

5.5

-

-

7.5

0.60

(1) Suitable for mobile generator sets (Pmax > 900kw diesel engines)
Technical Characteristics of Yuchai Land Gas Engine
√ Low pressure intake technology before supercharging
√ Single point injection technology after supercharging
√ Land gas engine technology application – CHP (combined heating and power supply)Technology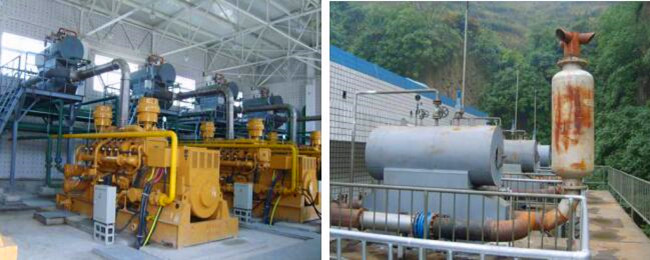 Gas power research and development concept
1) Yuchai gas machine is professionally developed from Yuchai's high quality diesel engine.
√ Ensure the versatility of spare parts and maintenance of the whole machine.
√ Ensure that the machine has a high reliability foundation.
√ Ensure the production consistency and quality stability of the whole machine

2. Mature and advanced fuel control system.
(1) Low pressure system: international mainstream low pressure intake premixing technology (applicable gas pressure: 0-15kPa).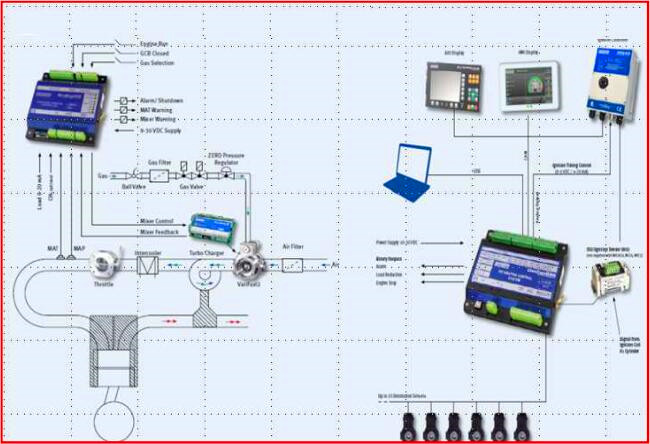 Main technical features (applicable to natural gas, biogas, etc.):
Gas control cabinet

Modular design

Industrial protection

High-energy ignition module

High-energy capacitor ignition

Primary ignition energy up to 700mJ

Adjustable Ignition duration and energy

Lower air-fuel ratio guaranteed

Self-ignition self-diagnosis function

Knock sensor

Each cylinder adopts knock monitoring

The monitoring module has the actual knock value or knock record function

Power transmitter

Higher reliability with power closed-loop power control
(2) Medium pressure system: international advanced single point injection technology (applicable gas pressure: 4bar-6bar)
Main technical features:
(1) Brand parts, quality is guaranteed
√ Key components of gas system, ignition system and control system are all international brand.
√ Supercharger, piston and other assembly parts are all used in the industry famous brand.
√ The body, cylinder head and other core platform parts are guaranteed by Yuchai advanced equipment and high acceptance standards.
(2) Advanced gas system control technology
√ Single-point gas injection technology: matured by market batch verification.
√ Supercharged intercooled lean combustion technology: guarantees efficient and clean combustion, and good economy.
√ Electronically controlled supercharging technology: precise control of boost pressure & improve the responsiveness of the whole machine.
√ Oxygen sensor closed-loop control technology: precise control of air-gas ratio, improve the performance consistency and stability of the machine.
√ Single-cylinder independent ignition technology: Each cylinder adopts intelligent ignition coil to ignite separately, with high reliability and convenient maintenance and replacement.
√ Fault diagnosis technology: perfect fault diagnosis, protection strategy, engine protection, and timely troubleshooting.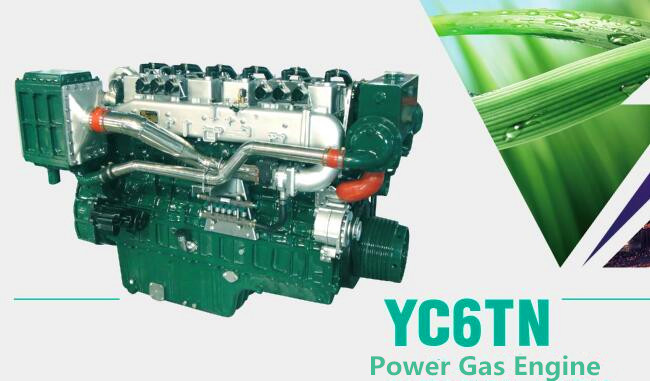 3. Key professional design and development of gas engine body
(1) Special piston for gas engine
√ Optimize the shape of the combustion chamber, select the compression ratio reasonably, achieve faster and more full combustion, and shorten the flame propagation distance to reduce the knock tendency.
√ Optimize the piston skirt profile to solve the problem of high engine oil consumption.
√ Some models use enhanced cooling.
(2) Three-piece ol ring
√ The three-piece oil ring is used to solve the problem of engine oil consumption caused by the high intake vacuum of the gas engine, effectively reducing the oil consumption of the machine up to 5%.
√ The oil ring adopts an ammoniation process to improve its wear resistance.
(3) Valve seat ring and valve
√ Specially developed for gas machine characteristics
√ Newly designed sealing structure for more efficient sealing
√ Special material valve and seat ring, high temperature wear resistance, effectively reduce valve and seat ring wear.
(4) Special camshaft for gas engine
√ Optimize the gas distribution phase and scavenging volume, ensure high charging efficiency and reduce the gas mixture scavenging loss, improve HC emission, greatly reduce the temperature and ensure the engine's power performance and reliability.
(5) Water cooled supercharger
√ Through the optimization of the control strategy, the low inertia supercharger is matched to make the low speed torque large and the acceleration response fast.
√ The high temperature part is cooled by water, the operation is more reliable and the service life is longer.
(6) Intake and exhaust pipe for gas engine
√ Perform CFD analysis on the intake and exhaust pipes to reduce process resistance.
√ CFD calculation guarantees uniformity of each cylinder
√ CAE strength analysis prevents tempering from causing cracking.