Apr. 23, 2020
Starlight Power is a manufacturer of diesel generator set in Jiangsu China, founded in 1974. Supplying 25kva-3125kva diesel generator. All product has approved CE and ISO certificate. Engine brand covers Cummins, Volvo, Perkins, Yuchai, Shangchai, Deutz, Ricardo, Weichai etc. There are 8 configurations of diesel generator for your choice.
A. Soundproof diesel generator(with sound attenuated enclosure)
1.Significant low noise performance, generator noise limit 75dB at 7 meters.
2.Good ventilation system and thermal radiation prevention measures to ensure that the unit always works at the appropriate ambient temperature.
3.Large capacity genset base bottom fuel tank for 8 hours continuous load operation.
4.Special noise reduction and silencing materials are used to greatly suppress mechanical noise.
5.Efficient shock absorption measures to ensure the smooth operation of diesel generator set.
6.Special observation window and emergency stop button are set at the proper position of the sound attenuated enclosure, which is convenient for operation and observation of the operation state of the unit.
7.Optional rain proof and silent generator for outdoor use.
8.The silent box has the air inlet and exhaust outlets required by the ventilation of the generator set to ensure the ventilation volume in the box, and the generator set can get the best cooling effect by reasonably arranging the positions of the air inlet and exhaust outlets.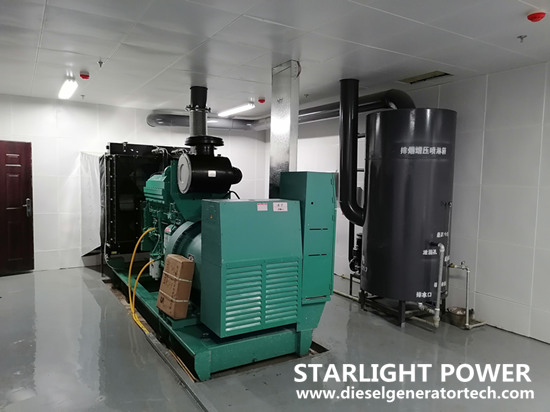 B.Mobile trailer diesel generator
Mobile trailer type generator set has a variety of structures and functions, such as trailer power station, mobile low-noise power station, mobile container power station, etc. the system is designed by our company with advanced technology and good operation performance and safety performance.
C.Silent mobile trailer type diesel generator(Silent mobile power station)
D.Self starting and self stopping system.
The electronic speed control unit can be selected to automatically detect the power supply, automatically start the generator unit after losing the power supply, and automatically detect whether the generator unit is started successfully. After getting the municipal electric signal, the unit will automatically slow down and shut down.
E.Four protection system overspeed, low oil pressure, high water temperature, under pressure alarm shutdown.
F.ATS automatic transfer switching control system
ATS has all functions of self starting system. After automatically detecting the starting unit of the municipal power supply, the load shall be put in by itself, and the professional ATS switching system shall be provided, so that the power supply is safe, convenient and efficient. After getting the municipal electric signal, cut off the load power transmission automatically, and reduce the speed and stop the unit automatically.
G.The full-automatic parallel/grid connected system
This is not only suitable for single machine operation but also parallel operation of multiple generators. It has the functions of automatic fault detection, real-time display of operating parameters, detection of working state of oil machine and Realization of various automatic protection functions. According to the customer's requirements, we can make a variety of plans to meet the practical requirements.
H.High voltage diesel generator
We have Cummins, Perkins, Volvo, MTU, Yuchai, Shangchai, Jichai etc. diesel engine for generator set, which has strong power and high reliability.
Starlight Power has established a large parts warehouse and parts supply network, a variety of pure parts storage, advanced inventory management to maintain the stock supply rate of common spare parts above 90%. Not only that, experienced service consultants can also provide you with economic and scientific maintenance advice.
If you have purchase plan of diesel generator, please contact us by email sales@dieselgeneratortech.com. We will guide you to select the most suitable product and provide the best service.