May. 20, 2020
Technical data of 800KVA AC diesel generator set
The DG Set is skid mounted, directly coupled with Cummins water cooled engine with built in shock absorber for anti vibration. The alternator is Stamford brand with brushless and self excited, with control panel and protection system complete set.
Prime power: 640KW/800KVA
Standby power:704KW/880KVA
Rated voltage: 230/400V
Rated current: 1152A
Speed/frequency:1500rpm/50Hz(or 1800rpm/60Hz)
Power factory:0.8lag
Size: open type genset: 4.2 x1.82x2.25m, silent genset: 6.5 x2.6 x2.78m
Net wight: open type genset: 7800kg, silent genset: 12000kg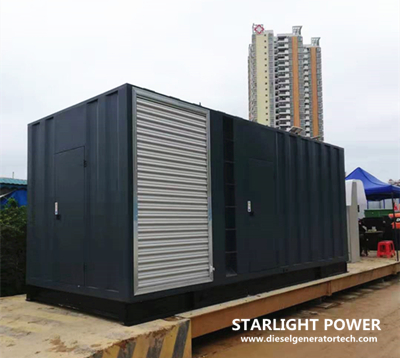 Technical Data of Diesel Engine
Diesel engine brand/model: Chongqing Cummins/ KTA38-G2B( full new)
Prime/standby power: 790KW/920KW
4 Stroke Cycle , 60° Vee , 12 Cylinder, Turbocharged &Aftercooled, 1500rpm, 50Hz, bore/stroke: 159/159mm.
The Cummins diesel engine is equipped with electronic type governor, over speed shutdown devices to protect against runaway when electronic governor or control devices fail. For oepn type generator set, we can provide daily fuel tank with electronic pump, filling cap and fuel level gauge according to your needed capacity. For silent type generator set, it has equipped with base bottom fuel tank for continuous operation for 8 hours or 12 hours. For prime soundproof 800KVA DG Set, base bottom fuel tank is 1205L( 8 hours), 1807L( 12 hours).
Fuel system is preferably pressure time system( Cummins PT pump direct injection). Cooling system is water cooled in close circuit system with thermostat(radiator type).
Technical data of alternator
Prime power: 640KW/800KVA
Rated voltage: 230/400V
Alternator brand/engine: Stamford/HCI634G1
Power system: 3 phase 4 wire, power factory 0.8lag, frequency 50Hz.
Insulation class: H
Protection level: IP23
Bearing: single or double bearing
Technical data of control panel
Control panel brand/model: SmartGen HGM6110
Complete control panel equipped with:
1.Continuous, starting switch and auto start/stop.
2.Overload and short circuit protection.
3.Auto stop mechanism to protect engine during abnormal rise in water temperature and drop of oil pressure.
4.Emergency stop switch.
5.Battery charger Ammeter and charged warning light.
6.Battery charger voltage.
7.Oil pressure gauge and warning light.
8.Frequency meter.
9.Overspeed protection system.
10.Auto reset button control for generator/engine parameters.
Full technical details, please contact us.
800KVA AC diesel generator set with Cummins engine is assembly by Starlight Power factory. Starlight Power is a manufacturer of diesel generator set in Jiangsu China, founded in 1974. All of generator sets are qualified before delivery. We have our own test center in factory, before shipment we do test, all product must be qualified, otherwise, the goods will be not shipped to customers, we can provide factory test report.
At the same time, we can provide CE certificate, ISO certificate and engine/alternator/controller OEM authorized certificate. All of our product is genuine product. If you have purchase plan, welcome to contact us by email sales@dieselgeneratortech.com.