Jun. 24, 2020
725kva Cummins diesel generator is made by Jiangsu Starlight whom mainly produces diesel generator set in China, founded in 1974.
1.Cummins genset data
Prime power: 580KW
Standby power: 639KW
Engine model: KTA38-GA
Alternator: Stamford HCI634G1
Controller: Deep Sea DSE7320
Rated voltage: 400/230V( or as you need)
Speed/frequency: 1500rpm/50Hz
Power factor: 0.8lag
3 phase & 4 wire
Fuel consumption @ 1500rpm: 133L/h (100% prime rated load)
Manufacturer: Jiangsu Starlight Electricity Equipments Co.,Ltd.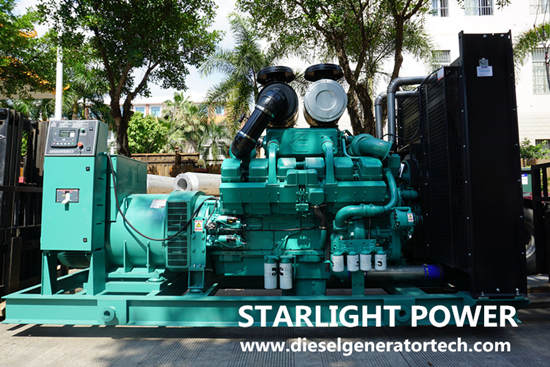 2.Cummins diesel engine KTA38-GA data
Manufacturer: Chongqing Cummins Engine Co.,Ltd.
Model: KTA38-GA
Prime power:647KW
Standby power:711KW
Speed: 1500rpm
Displacement:38L
Bore X Stroke:159X159mm
Compress Ratio:14.5:1
Aspiration: Turbocharged
Fuel System: Cummins PT
No. of Cylinder: V-12
Governor type: electronic
EXHAUST SYSTEM
Maximum Allowable Back Pressure (1500rpm): 2.3in.Hg(3kPa)
Maximum Allowable Back Pressure:3in.Hg(10kPa)
Exhaust Pipe Size Normally Acceptable:6in(152mm)
COOLING SYSTEM
Coolant Capacity
With heat exchanger HX 4073 ( With out explantion tank):18U.S.Gal(66L)
With explantion tank & LTA: 30U.S.Gal(112L)
Maximum Coolant Friction Heat External to Engine @1500 rpm:7PSI(48.3kPa)
Minimum Raw Water Flow @ 90°F(32℃) to Heat Exchanger With HX 4073:54GPM(204.4L/min)
Standard Thermostat (modulating) Range:180-200°F(82-99℃)
Maximum Allowable Coolant Temperature :205°F(96.1℃)
LUBRICATION SYSTEM
Oil Pressure
@ Idle:20PSI(138kPa)
@ Rated Speed:45-65PSI(310-448kPa)
Maximum Allowable Oil Temperature:250°F(121℃)
Total System Capacity (Excluding By-Pass Filter):45U.S.Gal(170L)
FUEL SYSTEM
Fuel Injection System: Cummins PT direct injection
Battery Recharge System,Negative ground:35A
Maximum allowable resistance of starting circuit:0.002Ω
3.Stamford alternator HCI634G1 data
Brand/Model: Stamford/HCI634G1
Manufacturer: Cummins Generator Technologies(China) Co.,Ltd.
Frequency: 50Hz
Protection level: IP23
Insulation: H
Voltage regulation: AVR
Capacity: 725KVA
Overload: 10% overload for one hour per 12 hours
Bearing: Single bearing( without PMG or with PMG, as you need)
4.Controller Deep Sea DSE7320
Model: DSE7320
Manufacturer: UK Deep Sea
Starlight Power factory has focused on high diesel generator set for more than 43 years since 1974. Our genset with Cummins engine is the best sales and popular with good performance, low fuel consumption and competitive price. If you want to order, please contact us.