Jul. 29, 2021
The cooling water tank is an important part of the diesel generator set, and it plays a vital role in the normal operation of the diesel generator set. When the diesel generator set works normally, it will generate a lot of heat, so it needs cooling water to cool down. So, what temperature range is the water temperature suitable? This depends on the different seasons to analyze.

In the hot summer, the ambient temperature rises, and the coolant of diesel generator sets rises rapidly in such a high temperature environment. As we all know, the engine is likely to cause cylinder pulling accidents at 100°C water temperature, so the diesel generator set should stop working or reduce the load when the coolant exceeds about 95°C. When the engine water temperature is too high, the water tank boiling phenomenon will occur. The user can observe the violent water overflow in the radiator or expansion water tank. At this time, do not open the water tank cover blindly to prevent burns. The user should proceed as follows: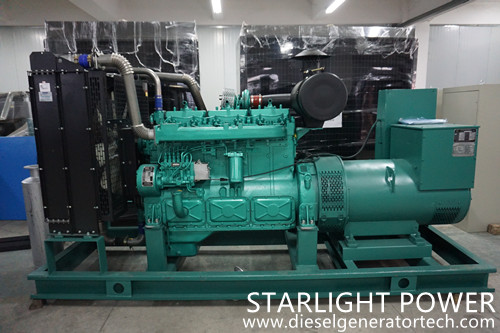 1. Do not turn off the engine immediately, so as not to burn the cylinder bed, pull the cylinder, and cause greater damage to the unit.
2. Don't try to open the water tank cover, otherwise hot liquid may spray out and cause burns.
3. Do not pour cold water into the cylinder block and cylinder head of the diesel engine. This action is likely to cause the cylinder block of the Perkins diesel generator set to burst due to sudden cooling.
4. Remove the engine load, let the engine run slowly from medium speed to low speed, and then increase the speed after the standby temperature drops to normal.
5. If there is a lack of cooling water, distilled water, purified water and other soft water can be added to prevent the formation of scale and affect heat dissipation.
In winter, the temperature of the environment is lower, and the temperature of the coolant is also lower. Therefore, the coolant temperature of diesel generator sets will rise a little bit slower. When the diesel engine exerts 100% power, the coolant temperature should be around 80 degrees Celsius.
In summary, we know that the water temperature of diesel generator sets is actually related to different seasons. Users should adjust the water temperature in time for different seasons so that the diesel generator sets can work normally.
Jiangsu Starlight Electricity Equipments Co.,Ltd. has 64 sales and service departments across the country, providing users with one-stop service of design, supply, debugging and maintenance at any time. Looking forward to your inquiry, please send email to us for details sales@dieselgeneratortech.com