Jan. 04, 2022
When purchasing diesel generator sets, most users pay more attention to the specifications and cost-effectiveness of the generator sets. However, with the passage of time, the correct maintenance of diesel generator sets by users is the key to reducing operating costs. Routine maintenance and regular maintenance can effectively extend the service life of diesel generator sets and ensure stable performance of the generator sets. Then Jiangsu Starlight Electricity Equipments Co.,Ltd. will introduce you to the daily and regular maintenance of diesel generator sets.

Daily maintenance.
Routine maintenance of diesel generator sets generally includes coolant heaters and liquid levels, oil and fuel levels, and charge air pipes. Routine inspections are carried out once a day to make users more familiar with the warranty of the generator sets and help customers quickly discover some of the generator sets. Potential problems and prevent them in advance.
Weekly maintenance.
It is very important to spend a few minutes a week to drain the excess water from the fuel filter and fuel tank. At the same time, it is important to check the air filter and clean it as needed. At the same time, charge the charger.
Monthly maintenance.
Check the belt tension and any battery and coolant concentration. In addition, you also need to drain the condensed water in the exhaust gas.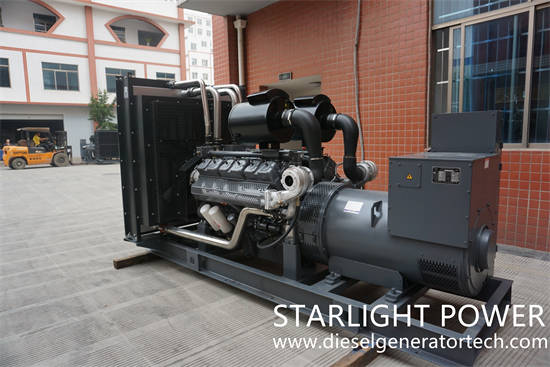 Annual maintenance.
Although the annual inspection is not that complicated, the next task is a major task. That is to ensure that the cooling system is working properly. If your generator is small, then you may use an air cooling process. Larger, more industrial-strength generators require liquid coolant to operate.
Biennial maintenance.
Twice a year or every six months, you need to check the radiator hose and clean the crankcase breather, so that you can release the accumulated gas pressure and reduce the pressure on the generator. You also need to replace the filters (oil, coolant, fuel) and the air filter element.
The above maintenance suggestions are for reference only. The corresponding maintenance items and cycles of different types and powers of diesel generator sets may be slightly different. If you are not a professional, please consult the generator manufacturer for professional advice.
Jiangsu Starlight Electricity Equipments Co.,Ltd. is a manufacturer of professional generators, diesel generator sets, Cummins generator sets, Volvo generator sets, etc. The company has advanced testing equipment, excellent production technology, professional manufacturing technology, perfect quality management system, and Strong R&D technical strength. It can provide 15KW-2500KW various specifications of universal, automatic, four protection, automatic switching, low noise and mobile, etc., high-quality, low-energy generating sets to meet customer power needs, and can also meet users' different voltages and different frequencies, as well as the power supply system of multiple units connected in parallel, welcome customers to inquire. For more details, please contact us with sales@dieselgeneratortech.com