Aug. 22, 2020
We are a leading manufacturer of diesel generator set in China, we have focused on high quality product for more than 43 years, covers main popular brands: Cummins, Volvo, Perkins, Yuchai, Shangchai, Ricardo, Weichai etc. Power range is from 50KW to 800KW.
1.Main technical data of Shangchai generator set
Auto start/stop type 800KW/1000KVA prime duty rated diesel generator set, 400/230V, power factor 0.8lag, 1500rpm, 50Hz, 3 phase 4 wire. Soundproof & weather type.
The 800kw genset can be able to run at 110% of full load for one hour in 12 hours of operation. The unit is of self-contained construction, a water-cooled diesel engine driving a brushless alternator via a flexible self-aligning coipling, 8-hour base mounted fuel tank, skid chassis.
The acoustic enclosure is to be designed and manufactured in accordance with IP55 environmental protection standard. There is lockable doors and panels to prevent unauthorised access to the genset with a viewing window to allow reading of the instrument panel. An external emergency stop push button is to be provided on the canopy at a convenient location.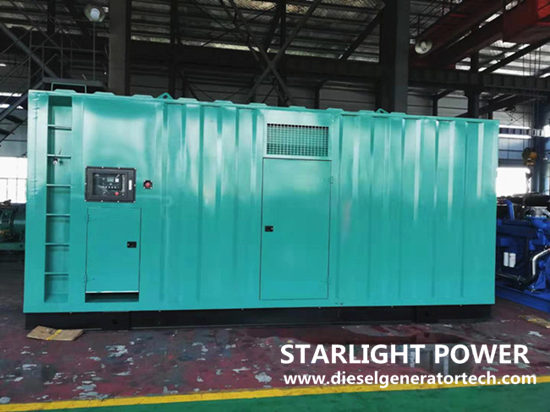 2.Diesel engine
Diesel engine: Shangchai SC33W1150D2 made: China
Prime power: 782KW Standby power: 860KW
4 stroke, water cooled (radiator based), turbocharged, air to air intercooled, diesel engine of reputed make. Air and oil filters (with internal bypass) systems to be included. Operational speed 1500rpm. The engine is to be designed, manufactured and configured to comply with GB/T2820.
Number of cylinders: 6
Cylinder Type: Wet liner
Bore × stroke: 180x215mm
Compression ratio: 15:1
Combustion type: direct injection
Fuel consumption: 100%: 189.5L/h 75%: 1449.5L/h 50%: 100.7L/h 25%: 54L/h
Prime power is available for an unlimited number of hours per year in a variable load application. The permissible average power output over 24 hours of operation shall not exceed 80% of the prime power rating.
Standby power is available in the event of a utility power outage or under test conditions for up to 200 hours of operation per year. The permissible average power output over 24 hours of operation shall not exceed 80% of the standby power rating.
Exhaust: Residential integral silencer with stainless steel flexible connection bellows. Noise level limit 75dB @ 7m.
Fuel System: electric type governor, mechanical type feed pump.
3.Alternator
Model: Shanghai Kepu TFW2-800 made: China
Type: Self-excited, isochronous, brushless, tropicalised, 4 pole, 1500rpm.
Regulator type: electronic AVR. The A.V. R, which is intergral sealed, also has the function of low-frequency preventing from damp, mildew and salt mist.
It conforms to the international IEC standards and the national GB/T 15548-95(General specification for three-phase synchronous generator driven by reciprocating internal combustion). The product features in advanced technology, novel structure, superior performance, stable operation and reliable quality.
The steady-state voltage regulation rate ≤±1.0%
The transient-state voltage regulation rate ≤±20%~15%
The voltage setting range ≥10%UN
The line-voltage sinusoidal waveform distortionrate ≤5%
The voltage deviation (while the three-phase loads are out-of-blance) ≤5%
The efficiency reaches the average level of the intermational advanced standard.
Serviceable Environmental Conditions
The temperature of environment air ≤40℃
The altitude above sea level ≤1000m
The relative temperature of air ≤90℃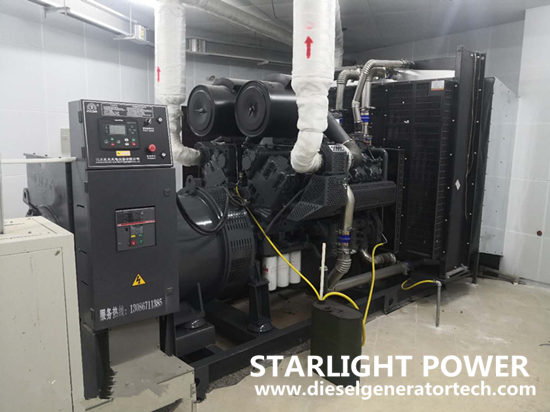 4.Controller
Model: SmartGen 6110 made: China
Safety cut-out relays with latched shut downs, individual fault lamps are to be fitted to cover the following abnormal function events as a minimum requirement:
·High engine temperature (with pre-alarm)
·low water level
·Engine over/under speed
·Low oil pressure (with pre-alarm)
·Low fuel pressure (with pre-alarm)
·Voltage deviation
·Overload
·Over current earth fault protection
Starter cyclic cranking with limiter
5.Testing & commissioning
Before delivery, we do testing and commissioning for diesel generator set, we can provide factory testing and commissioning report.
6.Warranty
One year or 1000 running hours, whichever comes first.
7.Spare parts
We also can provide extra spare parts for 1 year or 2 year etc together with diesel generators according to your requirements, such as oil filter, air filter, fuel filter, start motor, AVR etc.
We believe we can provide high quality product and best service for you. If you want to buy diesel generator set, welcome to contact our sales person by email sales@dieselgeneratortech.com. We will work with you at any time.