Sep. 23, 2021
The advantages of portable generator sets are small size, low vibration, and easy to carry. The quotation of portable generator sets is closely related to the brand, configuration, and power of the generator set. Different industries and jobs require different generator sets. Users can choose the right generator set according to specific work needs!

Everyone knows gasoline engines. We have cars, trucks, and lawn mowers. It seems that there are stations on every corner. Unless you drive a tractor trailer, you may not have a diesel engine.
In fact, diesel engines are more efficient than gasoline engines. According to the relevant energy department, the efficiency of diesel engines is 30% to 35% higher than that of gasoline engines. Diesel engines have fewer operating parts than gasoline engines, which means less maintenance during the entire life cycle of the engine.
So, what power diesel generator do we need?
All of this depends on what power you want or need, and everything is in watts. Electrical appliances such as stoves or refrigerators require a lot of watts to operate, while light bulbs and fans are hardly needed. Your air conditioning equipment will consume the most, especially commercial equipment.
You should calculate the total power of the electricity you need to help you calculate your specific needs.
You need to add all devices that are scheduled to run at the same time. Your refrigerator and freezer should be a priority, because if they don't run for a long time, your food will spoil.
The next step is your heating or air conditioning. If there is a power outage in winter and the weather is very cold, you need heating. These two main appliances can consume the most electricity, so please consider it.
After that, you may need to operate the stove, microwave, dishwasher, etc. Electric appliances vary in wattage, so please check your specific appliance to get an accurate figure.
Ultimately, you need to power lights, fans, TVs, radios, computers and other small appliances. This usually consumes very little wattage, but you should know these numbers.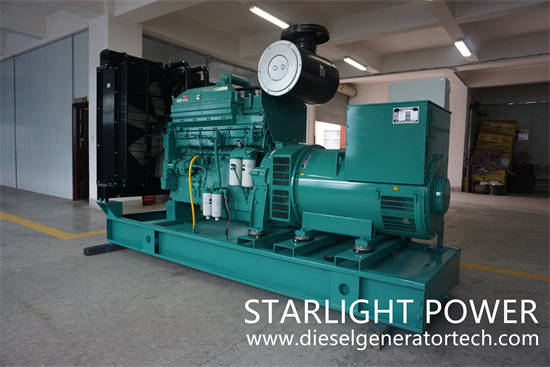 Add them up and you will get a number, but there is one last thing to consider. Most appliances consume more power when starting up. The larger the device, the greater the power required to start. After starting, the less electricity the appliance consumes.
Suppose your air conditioner has 20,000 watts, but it consumes 22,000 watts at startup. You don't want to buy a 20,000 watt maximum power generator because it will never start your air conditioner. You need a power source that exceeds the starting power. Electric ovens and heat pumps are used in large buildings and consume a lot of electricity when they are started.
Hard-wired transfer switch, plug and play.
Almost all generators have a plug-and-play function. They have a variety of outlets, and you can connect different types of power cords from these outlets to power all devices.
The key word here is wire. You need a wire long enough to connect from the generator outside the building to your electrical appliances. For most appliances, this is not a big problem. If they plug into your wall outlet, they can use a normal extension cord. This is not ideal for large commercial properties.
Ovens and dryers use special wires, so first make sure that the generator has a device socket. Secondly, a long enough power cord is required. The longer the price of these special power cords, the higher the price.
There will also be obstacles to the route. They are in danger of tripping and falling, and if the power cord is aging or damaged, they will get an electric shock. This means that if you only care about powering one or two devices, and they don't need long wires, then if you are careful, you can solve the problem by plug-and-play settings.
This transfer switch, because it generates its routing power through the electrical safe of your building, is the simplest distribution from your generation to your equipment.
The transfer switch is installed on the outside of the building, on the other side of the wall with the fuse box. The transfer switch has a built-in safety function. In order to turn on the power supply from the generator to the fuse box, the power supply from the power company must first be turned off.
This safety function uses a manual slider, and if the power company's switch is also turned on, it can physically prevent the generator's switch from turning on. This can prevent the power from being fed back to the system and the generator to be damaged.
Jiangsu Starlight Electricity Equipments Co.,Ltd. has 64 sales and service departments across the country, providing users with one-stop service of design, supply, debugging and maintenance at any time. Looking forward to your inquiry, please send email to us for details sales@dieselgeneratortech.com