Aug. 26, 2021
With the arrival of the summer peak power consumption period, power supply in some areas is tight or even short. In particular, some manufacturers are required to adopt specific measures such as orderly power consumption and industrial peak power consumption, which have a great impact on the normal operation of enterprises. Faced with the "power curtailment order", do you consider leasing a generator? As a professional manufacturer of diesel generators, Jiangsu Starlight Electricity Equipments Co.,Ltd. recommends that you can lease it for short-term use. If you use it for a long time, it is recommended to buy a second-hand or brand new one, and you can choose a suitable generator according to your actual work needs. This article focuses on sharing the precautions related to generator leasing.

When renting a generator, the user must clarify several questions: Whether the rented generator is for household use or construction site industrial use, three-phase or two-phase is required, how many hours a day should be used, how much electrical equipment should be connected, and whether it is high-power or low-power power? Daily rent or monthly rent or annual rent? The rental price is also different for different powers and for different lengths of time. Specifically, it depends on the brand, power, degree of newness and use of the unit. There is no uniform price depending on the specific situation.
Regarding the rental price and time of generators, for example, to rent a 200-300KW generator set, the transportation cost of the truck is 800-1000 yuan, and the daily rent is about 1000 yuan, and diesel power generation should be prepared according to the generation time. It is definitely not cost-effective to rent for only one day, and the cost of renting a generator for half a month or one month will be relatively cheaper. Currently on the market, the monthly rental cost of 100-250KW generators is about 7000-9000, and the power is larger, for example, the price of 300kw, 400kw, and 500kw will be slightly more expensive. Generators are divided into open frame type, silent type, mobile type, etc. There is no doubt that the price of generators with more rental functions is definitely more expensive.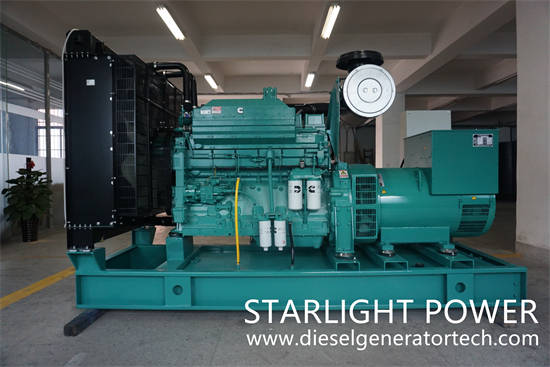 Jiangsu Starlight Electricity Equipments Co.,Ltd. reminds you: When choosing generator rental, mobility is very important, especially when you have to move between work locations. By renting a mobile generator, you can transport the vehicle to any place you need it. They are also very convenient to operate and set up, which not only saves time, but also helps keep your project on schedule.
Buy a brand new generator with different brands of power, and the price ranges from a few thousand to ten to twenty thousand, and the price ranges from tens of thousands to hundreds of thousands or even millions. If you only need to protect the source of power for a project, generator leasing can meet your needs. When the device is not in use, you don't have to worry about storage or bear the cost of the device. You can also benefit from the latest generator brand technology. At present, most rental equipment is new equipment equipped with advanced features that can improve productivity, efficiency and safety. If you need a generator to replace a broken machine or meet increased demand, leasing will be a quick solution to keep the business operating normally.
Different generator brands have different power and different prices. According to the types of generators, generators are divided into DC generators and AC generators. AC generators are divided into synchronous generators and asynchronous generators (rarely used). AC generators can also be divided into single-phase generators and three-phase generator. There are many types of generators. In principle, it is divided into synchronous generators, asynchronous generators, single-phase generators, and three-phase generators. Small generators are divided into single-cylinder and double-cylinder, etc. I won't go into details here. If you don't know how to choose, you can consult your local generator rental supplier.
Jiangsu Starlight Electricity Equipments Co.,Ltd., as an OEM supporting manufacturer authorized by Cummins to provide Chinese diesel generator sets, has professional manufacturing technology, perfect quality management system and strong R&D technical strength. It can provide users with generator sets of various specifications from 15KW to 2500KW. It can also provide users with one-stop service of design, supply, debugging and maintenance at any time. welcome contact us by email sales@dieselgeneratortech.com