Jan. 21, 2022
Cummins diesel generators will generate a lot of heat during operation. If ventilation and heat dissipation are not done properly, the generator set may be damaged or even cause major equipment failures. Therefore, users must pay attention to the ventilation and heat dissipation problems of the unit during installation. Specific requirements are as follows:

1. When installing the Cummins diesel generator set, the radiator should be as close to the air outlet as possible to avoid the recirculation of hot air. When there is no air duct, it is recommended that the distance between the radiator and the air outlet should not exceed 150 mm. If the equipment room cannot meet the above requirements, the corresponding air duct should be installed.
2. The area of the exhaust port should be 1.5 times the exhaust area of the radiator. Under normal circumstances, it is necessary to cooperate with the radiator to install the air duct and the exhaust shutter. The bend of the air duct should go through the appropriate elbow, and the pipe should be enlarged to reduce the exhaust back pressure if the pipe is too long. Long-spaced duct mufflers should be specially planned according to the characteristics of the building.
3. The air inlet and outlet of the computer room are generally equipped with louvers and mesh grilles. When calculating the size of the tuyere, the effective ventilation area of the louvers and mesh grills should be considered. Units require a lot of air for combustion and cooling, which is often overlooked.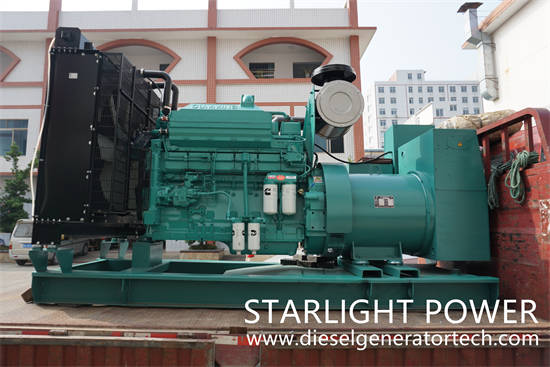 4. It is recommended that the total area of the air inlet should be at least twice the area of the radiator of the unit, all air outlets should be able to prevent the entry of rainwater. In areas with cold climates, adjustable shutters can be installed at the inlet and exhaust ports of the standby and low-running generator sets, and the shutters can be closed when the unit is not running.
The above are the ventilation and heat dissipation issues that should be paid attention to when installing Cummins diesel generators introduced by Jiangsu Starlight Electricity Equipments Co.,Ltd.. Even in the cold winter, users should not ignore this problem.
Jiangsu Starlight Electricity Equipments Co.,Ltd. is an OEM partner of Shangchai for many years. It has more than 40 years of experience in the production and manufacturing of diesel generator sets. It can provide users with various specifications of 15KW-2500KW. And other high-quality, low-energy generating sets to meet all customers' power needs. In addition, it can also meet the requirements of users with different voltages and different frequencies, as well as the power supply system of multiple units connected to the network. There are 64 sales and service departments nationwide, providing long-term technical consultation, free debugging, free maintenance, and free training services for users. Welcome contact us by email sales@dieselgeneratortech.com