Mar. 14, 2023
The principle of marine diesel generator is the same as that of land diesel generator. However, because the two are used in different situations and the environment of marine generators is relatively harsh, the following environmental factors should be considered for marine generators:

Generally speaking, diesel generator sets and main engines use fresh water to cool the engine block, cylinder liner and cylinder head. Fresh water is a closed circulating system, and then seawater is used to cool the fresh water. If seawater is used for direct cooling, it will cause corrosion to the engine due to its strong corrosivity. The heat exchanger for seawater cooling fresh water is generally made of corrosion-resistant copper.
Nowadays, most large marine diesel engines have a central cooler. Use seawater to cool the fresh water inside, and then use fresh water to cool the generator set or other equipment. This can effectively reduce the corrosion of components.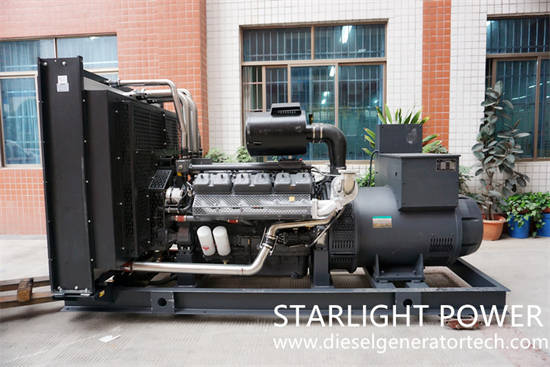 The circulating water in the heat exchanger of the land diesel generator set and the diesel engine is cooled by the water in the pool, so the land diesel generator set and the engine heat exchanger are the same.
Marine diesel generator sets and marine diesel engines are generally equipped with seawater heat exchangers, which are used to cool the water inside the machine. Therefore, marine diesel generator sets and marine diesel engines are the same heat exchangers.
Land and marine heat exchangers are different. The former uses fresh water from the pool to cool the water inside the machine, and the latter uses seawater to cool the water inside the machine. Therefore, the auxiliary system of marine unit is relatively complex, and there is a complete set of auxiliary system on the ship. The generator speed on the ship is 1000r/min and 750r/min (50Hz system). Start-up is basically started with 3MPa compressed air. In terms of fuel selection, a better marine generator can use 180 ° heavy oil, which can be much cheaper as a long-term power supply. Its disadvantage is that maintenance and management are relatively complex.
In addition to the above environmental factors, the threshold of marine diesel generator is high. The marine diesel generator must pass the inspection of General Technical Conditions for Marine Diesel Generator Sets (GB/T3020), and must pass the CCS ship inspection of China Shipping Corporation and Classification Society and issue a certificate.
The list to be provided for CCS certification includes marine product drawings, application for approval of technical documents, copy of business license, enterprise profile, technical implementation capability description, list of inspection equipment, project description, control panel approval test outline, unit approval test outline, electrical design drawings, general drawing, common base drawing, strength calculation of marine engine base, system diagrams and functional description of each system diagram.
Jiangsu Starlight Electricity Equipments Co.,Ltd. is a manufacturer of professional generators, diesel generator sets, Cummins generator sets, Volvo generator sets, etc. The company has advanced testing equipment, excellent production technology, professional manufacturing technology, perfect quality management system, and Strong R&D technical strength. It can provide 15KW-2500KW various specifications of universal, automatic, four protection, automatic switching, low noise and mobile, etc., high-quality, low-energy generating sets to meet customer power needs, and can also meet users' different voltages and different frequencies, as well as the power supply system of multiple units connected in parallel, welcome customers to inquire. For more details, please contact us with sales@dieselgeneratortech.com.