Sep. 26, 2021
Diesel generator set failure is a situation that all users do not want to occur, but all the machinery will inevitably have large or small failures after long use. At this time, if the user wants to propose a solution, he must first know where the set is. There is a problem, so when the unit fails, where should the user start to check? The following Jiangsu Starlight Electricity Equipments Co.,Ltd. will provide you with a maintenance guide. Come and learn about it with us.

1. Check the battery.
The most common reason that a new or used diesel backup generator fails to start may be a battery failure. If you have been performing regular inspections, you should know if the battery is fully charged. You should also double check all connections and cables to make sure they are in good condition and do not need to be replaced. If you have any spare batteries, you can use them for testing before buying new batteries.
2. Water leakage of diesel backup generator.
A leaking generator is a clear sign of a problem. The most common type of leak is due to a heater hose failure and causing coolant to overflow. Due to the temperature of block heaters, they usually wear out quickly. When you need to use a generator, regular maintenance inspections and cleaning can detect leaks before they become a problem. Make sure you look at all hoses and investigate blockages to prevent any liquid from appearing where it shouldn't.
3. The generator is out of oil.
This is embarrassing. If your diesel backup generator has no fuel, then it will not start. However, you should make sure that your meter is working properly. Sometimes they may get stuck and incorrectly read the amount of fuel in the tank. Manual inspection will help you pay close attention to your gauge and level.
4. Too much fuel.
If you do need to refuel, it is important to make sure that you don't overfill it. There are usually alarms to prevent this from happening, but if it happens to reach its capacity, then this can prevent the generator from kicking over. There are also situations where the alarm will go off by itself. If the generator is running hot, the fuel will start to expand and overflow. You need to wait for it to cool down for the level to return to normal so that your generator can start.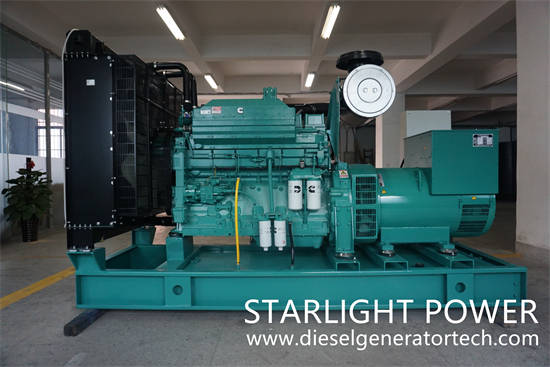 5. Is the generator running hot?
Before starting the generator, you should make sure it has enough coolant. If not, you will find that it will start to overheat and damage or shut down. They can damage the components inside the diesel generator. If you notice a rapid drop in levels, then you have a leak somewhere and need to fix this before turning the generator back on. If there is no leak, it may be a blockage or a ruptured head. This will send water into the cylinder and oil pan, which can cause serious damage to the machine.
6. The generator is too cold.
Starting a cold generator is like starting a car in winter. When you try to get it running, it may take up valuable time that you don't have.
If you want to save time and avoid unnecessary losses, installing a block heater can help the generator start faster. It also helps avoid any deterioration of starter parts and engine parts that are overused when you try to tip it over.
7. Wet pile.
If you notice a thick black substance leaking from the exhaust pipe of a diesel generator, it is likely that wet accumulation is occurring. In these cases, excess fuel is delivered to the cylinder. This makes it difficult to use any kind of gas effectively. Preventing wet stacking of generators starts at the design level of your facility. The most important and cheapest is to install a temperature monitoring system. This will track and record exhaust temperatures to ensure they are in control. Another option is to use smaller generators connected in parallel with each other. This improves the reliability and flexibility of the company's operations. Using smaller diesel generators is sometimes more effective because they don't need to be running all the time, and you don't need as much power to use them.
Before installing the generator, please consult professionals who can assist with the design principles to avoid wet reactor accidents. This will help prevent any unnecessary damage to the generator and ensure that it works properly when you need it.
8. Is it time to replace a new generator?
If you find any of these problems, you can get them back and running in a fairly short period of time. However, if these strategies fail, then it may be time to upgrade your diesel backup generator.
Jiangsu Starlight Electricity Equipments Co.,Ltd. was founded in 1974, as a wholly-owned subsidiary of Jiangsu Starlight Power Group, it is one of the earliest manufacturers of generator sets in China. Starlight Power has 64 sales services, long-term technical advice for users, free debugging, free maintenance, free training services. For more details, please contact us with sales@dieselgeneratortech.com