Mar. 31, 2022
I believe that all users know that diesel generators, like all mechanical equipment, require regular maintenance. Proper maintenance will help improve the safe and stable operation of diesel generator sets. As a leader in the diesel generator industry, Jiangsu Starlight Electricity Equipments Co.,Ltd. will introduce to you how to properly maintain the diesel generator set.

1. Check for fuel delivery problems.
Inspection of fuel delivery is an important generator set maintenance technique. It will ultimately help you increase the productivity of your generator set. There is a carburetor inside the genset engine. The main purpose of the carburetor is to mix the gasoline in the tank with air. This must be sufficient for ignition to occur in the engine. If it fails when starting the generator, you can say that your generator set has a fuel delivery problem. It must be ensured that the carburetor has the proper fuel needed to start the equipment. Eliminating the air filter can also help you understand if the problem is related to improper fuel delivery in the unit. Certain precautions need to be followed when operating a used 500kw generator in your workplace.
2. Carefully check the exhaust holes in the generator set.
Find a small hole or valve near the gas cap. This design allows fuel to flow out of the tank and carburetor. If this particular vent is completely blocked, fuel will not be able to flow inside the carburetor and your engine will not start working. If it's just not fully clogged, then the engine may also start and may not run efficiently or stall after a while. The best way to fix this is to use a short length of wire or a small amount of compressed air to clear the vents.
3. Regularly check the fuel lines in the generator set.
When you notice fuel lines clogged, leaking, or damaged by debris, don't bother trying to fix them. The best way to think about it is to change them. The only option is to buy properly sized fuel lines, which are readily available in stores that supply auto parts. And Starlight Power can provide the best brand of generator sets, such as Yuchai diesel generators, Cummins diesel generators, etc.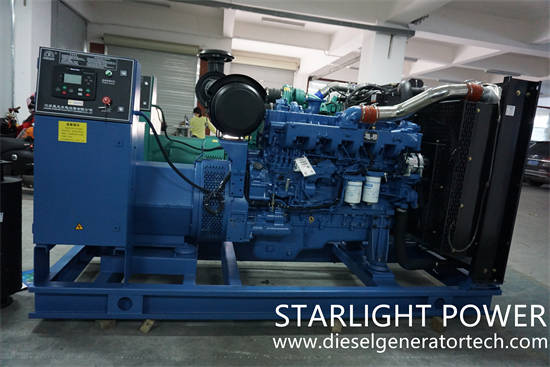 4. Regularly check the switch and automatic transfer switch.
Replacing damaged and broken switches and automatic transfer switches is also an important generator set maintenance technique to improve their performance. It's easy to replace the power cord if it breaks. Starlight Power offers brand new industrial generators for sale, you can choose according to your preferences and requirements.
5. Regularly check the fuel filter.
Another essential generator set maintenance tip is to check the fuel filter from time to time. Few generator sets include an inline clear plastic fuel filter. All such filters are designed to prevent any debris or dirt from the gasoline from entering the carburetor. If the filter is simply clogged, the carburetor won't get any fuel and will end up making the engine hard to start. If started, the engine may work roughly. Therefore, the fuel filter must be constantly checked to improve the performance of the entire genset.
The above are some of the maintenance methods for diesel generator sets organized by Jiangsu Starlight Electricity Equipments Co.,Ltd. for you. In order to maintain stable performance of diesel generator sets for a long time, users must abide by the relevant operation and maintenance rules of the generator set.
Jiangsu Starlight Electricity Equipments Co.,Ltd. is a professional manufacturer of generators, diesel generator sets, Shangchai generator sets, Volvo generator sets, etc. It has 64 sales and service departments, and provides users with one-stop service of design, supply, debugging and maintenance at any time. Welcome the majority of users call for consultation. For more details, please contact us with sales@dieselgeneratortech.com.