Dec. 12, 2018
As an independent manufacturer in China, Yuchai's engine is widely used in trucks, passenger cars, construction machinery, agricultural equipment, ships and power generation, special vehicles, light vehicles and other fields.

In this article, we mainly talk about Yuchai power generation gas engine features and its main technical parameters.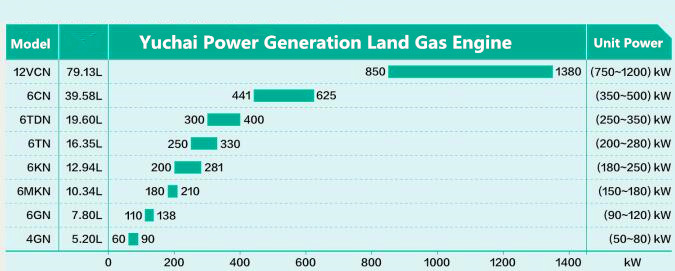 Yuchai Gas Engine Technical Features:
1. Adopt clean fuel, energy saving and environmental protection.
2. Based on the professional development of Yuchai mature batch production platform, the design of special gas engine cylinder head, piston ring group, camshaft, intake and exhaust system and other key development, the reliability of the whole machine is high.
3. Adopt advanced mature gas control system to achieve lean combustion, high thermal efficiency, low gas consumption rate, low discharge temperature, high reliability and stable control.
4. Soft combustion, ultra-low noise, low vibration and good comfort.
5. Parts and diesel engine models have a high general rate, wide service network, mature parts market and convenient maintenance.
YC4DN Series Power Generation Main Technical Parameters
| | |
| --- | --- |
| Model | YC4DN |
| Rated Power / Speed (KW/rpm) | 60/1500 (Gas) |
| Standby Power / Speed (KW/rpm) | 66/1500 (Gas) |
| Type | 4 Stroke, water cooling |
| Cylinder arrangement mode | In-line |
| Aspiration | Turbocharged & Intercooled |
| Control system | Single point injection after supercharging |
| Valve number | 2 |
| Cylinder-Bore x Stroke (mm) | 4-108 x 115 |
| Displacement (L) | 4.2 |
| Intake pressure of gas system (kPa) | Medium-pressure: 400 - 600 |
| Fuel | Natural gas |
| Minimum gas consumption rate (g/kWh) | ≤205 |
| Oil consumption rate (g/kWh) | ≤0.3 |
| Firing order | 1-3-4-2 |
| Crankshaft rotation direction | Anticlockwise |
| Starting method | Electric start |
| Oil capacity (L) | 11 -13 |
| Emission level | Non-road T3 |
| Flywheel interface dimensions | SAE 11.5" |
| Flywheel shell interface dimensions | SAE 3# |
| Overall dimensions (mm) | 950 x 790 x 870 |
| Weight (kg) | 380 |
| Genset power (KW) | Common: 50 |
YC4GN Series Power Generation Main Technical Parameters
Model

YC4GN

Rated Power / Speed (KW/rpm)

75/1500 (Gas)

90/1500

Standby Power / Speed (KW/rpm)

83/1500 (Gas)

99/1500

Type

4 Stroke, water cooling

Cylinder arrangement mode

In-line

Aspiration

Turbocharged and Inter-cooling

Control system

Premixing before pressurization

Single point injection after supercharging

Valve number

2

Cylinder-Bore x Stroke (mm)

4-112 x 132

Displacement (L)

5.2

Intake pressure of gas system (kPa)

Medium-pressure: 400 – 600;

Low – pressure: 0-5;

Fuel

Natural gas

Minimum gas consumption rate (g/kWh)

≤205

Oil consumption rate (g/kWh)

≤0.3

Firing order

1-3-4-2

Crankshaft rotation direction

Anticlockwise

Starting method

Electric start

Oil capacity (L)

18

Emission level

Non-road T3

Flywheel interface dimensions

SAE 11.5"

Flywheel shell interface dimensions

SAE 2#

Overall dimensions (mm)

979 x 708 x 1004

Weight (kg)

570

Genset power (KW)

Common: 50 - 80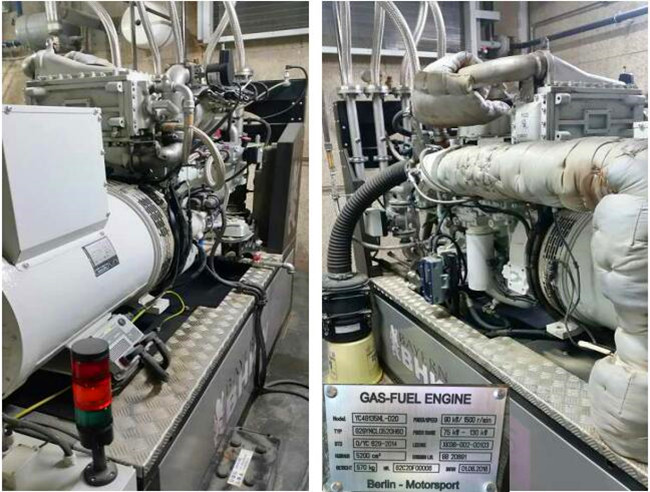 YC6JN Series Power Generation Main Technical Parameters
| | |
| --- | --- |
| Model | YC6JN |
| Rated Power / Speed (KW/rpm) | 90 - 125/1500 (Gas) |
| Standby Power / Speed (KW/rpm) | 99 - 138/1500 (Gas) |
| Type | 4 Stroke, water cooling |
| Cylinder arrangement mode | In-line |
| Aspiration | Turbocharged and Inter-cooling |
| Control system | Single point injection after supercharging |
| Valve number | 2 |
| Cylinder-Bore x Stroke | 6-105 x 125 |
| Displacement (L) | 6.49 |
| Intake pressure of gas system (kPa) | Medium-pressure: 400 – 600; |
| Fuel | Natural gas |
| Minimum gas consumption rate (g/kWh) | ≤203 |
| Oil consumption rate (g/kWh) | ≤0.3 |
| Firing order | 1-5-3-6-2-4 |
| Crankshaft rotation direction | Anticlockwise |
| Starting method | Electric start |
| Oil capacity (L) | 20 |
| Emission level | Non-road T3 |
| Flywheel interface dimensions | SAE 11.5" |
| Flywheel shell interface dimensions | SAE 2# |
| Overall dimensions (mm) | 1350 x 785 x 1200 |
| Weight (kg) | 750 |
| Genset power (KW) | Common: 90 |
YC6GN Series Power Generation Main Technical Parameters
Model

YC6GN

Rated Power / Speed (KW/rpm)

110 - 138/1500 (Gas)

Standby Power / Speed (KW/rpm)

121 - 152/1500 (Gas)

Type

4 Stroke, water cooling

Cylinder arrangement mode

In-line

Aspiration

Turbocharged and Inter-cooling

Control system

Premixing before pressurization

Single point injection after supercharging

Valve number

2

Cylinder-Bore x Stroke (mm)

6-112 x 132

Displacement (L)

7.8

Intake pressure of gas system (kPa)

Low – pressure: 5 -15;

Medium-pressure: 400 – 600;

Fuel

Natural gas (Mid-pressure)

Natural gas & biogas (Low-pressure)

Minimum gas consumption rate (g/kWh)

≤199

Oil consumption rate (g/kWh)

≤0.3

Firing order

1-5-3-6-2-4

Crankshaft rotation direction

Anticlockwise

Starting method

Electric start

Oil capacity (L)

21

Emission level

Non-road T3

Flywheel interface dimensions

SAE 11.5"

Flywheel shell interface dimensions

SAE 2#

Overall dimensions (mm)

1271 x 798 x 1034

Weight (kg)

700

Gense power (KW)

Common: 90 -120
YC6MKN Series Power Generation Main Technical Parameters
Model

YC6MKN

Rated Power / Speed (KW/rpm)

147 - 180/1500 (Gas)

Standby Power / Speed (KW/rpm)

162 - 198/1500 (Gas)

Type

4 Stroke, water cooling

Cylinder arrangement mode

In-line

Aspiration

Turbocharged and Inter-cooling

Control system

Premixing before pressurization

Single point injection after supercharging

Valve number

4

Cylinder-Bore x Stroke (mm)

6-123 x 145

Displacement (L)

10.34

Intake pressure of gas system (kPa)

Low – pressure: 5 -15;

Medium-pressure: 400 – 600;

Fuel

Natural gas (Mid-pressure)

Natural gas & biogas (Low-pressure)

Minimum gas consumption rate (g/kWh)

≤195

Oil consumption rate (g/kWh)

≤0.3

Firing order

1-5-3-6-2-4

Crankshaft rotation direction

Anticlockwise

Starting method

Electric start

Oil capacity (L)

32 -35

Emission level

Non-road T3

Flywheel interface dimensions

SAE 14"

Flywheel shell interface dimensions

SAE 1#

Overall dimensions (mm)

1271 x 798 x 1034

Weight (kg)

900 -1150

Genset power (KW)

Common: 150-180