Dec. 20, 2021
When the diesel generator set is running, the oil must be continuously filtered and cleaned in the engine, and this item will be completed by the oil filter. The oil filter can remove impurities such as dust, metal particles, carbon deposits and soot particles in the oil to protect the engine. At present, diesel generator sets have two kinds of oil filtration systems: full-flow system and bypass system.

Bypass filter
When a diesel generator set with a bypass filter is running, about 90% of the oil is pumped directly to the engine, and only about 10% of the oil is sent to the oil filter for filtering. If the filter is clogged, all the oil sold will not be filtered, and the oil will be pressurized into the engine without any filtering.
Full flow filter
In a full-flow system, all oil must pass through the oil filter before entering the engine. If impurities block the oil filter, the oil pressure in front of the filter will increase, causing the pressure relief valve to open. When the pressure difference before and after the filter is about 5-40 psi, the pressure relief valve opens, which is called differential pressure, which is the pressure difference between the inlet and the outlet of the filter. The inlet pressure is always controlled by the pressure regulating valve. When the oil filter is blocked after a period of use, the pressure on the other side of the filter will decrease. When the pressure difference is equal to the setting of the pressure relief valve, a certain amount of oil will be pass through the filter and enter the engine. This means that even if the filter is clogged, the engine can still get oil. If the filter is completely blocked, the oil pressure will be slightly lower than the normal pressure.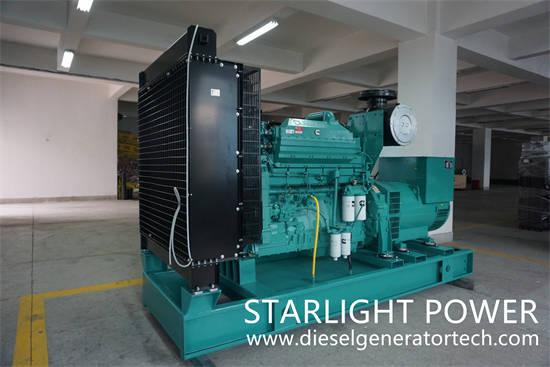 Before the development of technology was relatively backward, diesel generator sets only used by-pass systems. With the improvement of technology and the increasing demand for filtering engine oil, the current sets use full-flow systems. The oil filter should be replaced regularly. If it is a new unit, the oil filter should be replaced after the first 50 hours of operation. After that, it is usually replaced every 200 hours. However, due to the different operating environment and time of the unit, the replacement cycle is also different. It will be different, please consult a professional generator manufacturer for details.
Jiangsu Starlight Electricity Equipments Co.,Ltd. is a manufacturer of professional generators, diesel generator sets, Cummins generator sets, Volvo generator sets, etc. The company has advanced testing equipment, excellent production technology, professional manufacturing technology, perfect quality management system, and Strong R&D technical strength. It can provide 15KW-2500KW various specifications of universal, automatic, four protection, automatic switching, low noise and mobile, etc., high-quality, low-energy generating sets to meet customer power needs, and can also meet users' different voltages and different frequencies, as well as the power supply system of multiple units connected in parallel, welcome customers to inquire. For more details, please contact us with sales@dieselgeneratortech.com