Nov. 07, 2019
Container diesel generator set mainly refers to the unit with protective box, which can be divided into silent type, container type, canopy type, lowe noise type and shelter electric power station etc. Starlight series container diesel generator power range is from 500kw to 2400kw. Today we mainly introduce container silent type.

With the continuous development of urbanization, the requirements of power facilities for construction power supply, standby power supply and support power supply are also constantly improved. The requirements are higher, especially in the noise treatment, appearance design, hoisting of equipment and other major performance characteristics.
Characteristic of Starlight container silent diesel generator
1.Install with standard 20 feet or 40 feet container which is retrofitted, this can make the unit more flexible and convenient.
2.Including all functions of the standard silent type diesel generator set.
3.Laying sound absorbing cotton and metal perforated board inside the container box.
4.Equipped with industrial muffler, which has compact structure and good noise elimination effect.
5.Equipped with fuel supply system, control room, lighting system, cooling system, and maintenance space is reserved.
6.With high corrosion resistance, and all screws and bolts are rust proof.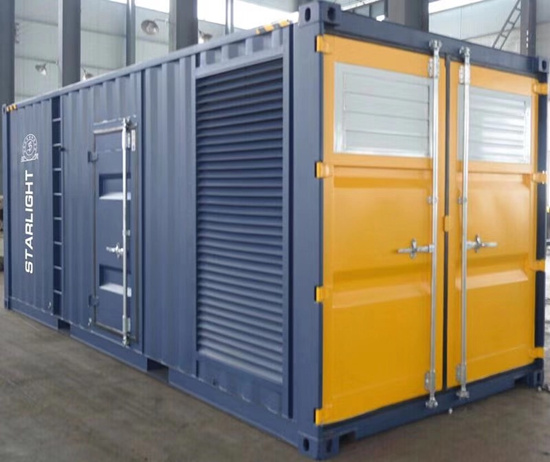 Advantages of Starlight container silent diesel generator
1.According to the world standard container planning and manufacturing, 20 feet for less than 1000KVA and 40 feet for more than 1250kva.
2.With CSC certificate of world container safety convention, the whole set can be directly shipped as a standard container, greatly saving the transportation cost.
3.For the convenience of user operation and maintenance, we equip with 2 explosion proof lamps in the container, and an explosion-proof lamp on the control panel.
4.The front and back of the container can be opened, and both sides of the container are equipped with side doors, which is convenient for users to maintain and repair.
5.All hinges, locks and bolts are made of stainless steel. Anti wave and anti rain corrosion devices are installed in the container.
6.The control panel and output switchgear are on the same side of the container for daily operation and output cable connection.
7.Standard configuration with permanent excitation PMG system to improve the motor starting ability and the waveform distortion with immunity.

8.Fuel tanks and pipelines, oil emissions, muffler, and so which are many unique design. Many users are of all ages.
9.Silent container genset is equipped with flame retardant sound insulation and sound absorption materials with high performance and aging resistant. Excellent design of air inlet and exhaust to reduce noise.
10.The noise reduction effect is 70-80dba (Lp7m).
The whole frame structure of container silent generator room, modular planning, production and installation, and equipped with air inlet and exhaust silencing room and exhaust noise silencing system, rainproof, dustproof, noise reduction, heat preservation, sound absorption, high temperature resistant materials and perfect air flow curve planning for ensuring smooth air inlet and exhaust, temperature control and noise reduction, modular installation.
Standard features of container silent diesel generator
Radiator 50℃ max
Fans are driven by belt, with safety guard
24V charge alternator
Dry type air filter, fuel filter, oil filter
Alternator: single bearing alternator
IP23, insulation class H/H
Main line circuit breaker
Standard control panel
Absorber
Muffler
Optional parts include: automatic fuel adding pump (or control valve) / coolant adding pump / dual oil-water separator / automatic parallel system, etc.
Starlight container silent diesel generators are suitable for construction in places with strict requirements on noise pollution, such as hospitals, offices, outdoors and field fixed places, and also improves the ability of the unit to prevent rain, snow and sand.
Starlight series container silent diesel generator set covers Cummins, Volvo, Perkins, Deutz, Yuchai, Shangchai, Ricardo, Weichai etc. You can choose any one of them according to your requirement. Contact us by email sales@dieselgeneratortech.com or call us +86 134 8102 4441.