Oct. 17, 2023
Do you know how to inspect and repair the damaged slip ring of a diesel generator set? After shutdown, check that the insulation of the rotor winding to the main shaft is zero, and the insulation of the excitation circuit is about 7MW. After the maintenance personnel removed all the rotor slip rings and insulation sleeves, they checked that the insulation of the rotor winding to the main shaft was greater than 100 MW, and the results of the DC resistance and communication impedance experiments were qualified. From this, it can be concluded that as long as the negative slip ring is grounded, the insulation of the excitation circuit and other parts of the rotor winding is excellent, and the excitation system is normal. Collaborate with the manufacturer to remove the positive and negative collector rings, fan rings, and insulation barrels of the diesel generator, and polish the rotor shaft. Finely process the positive and negative collector rings until they meet the surface lubrication and runout requirements. The testing institute also conducted external inspection and hardness inspection on the main shaft, collector ring, and fan ring of the diesel generator set.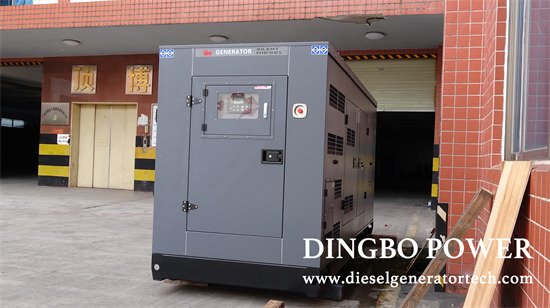 After polishing the two defects of the generator main shaft, no external cracks were found during the flaw detection, but the hardness value was scattered and some points had the highest hardness value of HB478. It is recommended to focus on inspection during the next major overhaul. The collector ring fan can be continuously used after polishing treatment. The hardness value of the positive collector ring is uniform, and there are no defects in the appearance inspection, making it sustainable for use. The negative collector ring has severe burning damage. Although no surface cracks were found after polishing, its hardness value is scattered and lower than the specified value. It should be replaced in the next major overhaul. This revision has replaced the negative electrode brush holder, insulation cylinder at the steam excitation end, stop gaskets on both sides, sealing rings, copper stop gaskets, and all carbon brushes.
Jiangsu Dingbo Power Generation Equipment Co., Ltd. was founded in 1974 and is one of the earliest manufacturers of generators and diesel generator sets in China. The company has a registered capital of 218.88 million yuan. The company covers an area of 86,000 square meters and a building area of 55,000 square meters. There are more than 660 employees, including 456 professional technicians and 106 senior technicians. It has 46 sales and service outlets nationwide. The main products are diesel engines, generator sets, and diesel generators, providing users with a one-stop service of design, supply, debugging and maintenance at any time. Dingbo has always insisted on using first-class talents, building first-class enterprises, manufacturing first-class products, creating first-class services, and making every effort to build a first-class domestic enterprise. If any question please feel free to visit our website https://www.dieselgeneratortech.com/ or send email to sales@dieselgeneratortech.com.