Apr. 28, 2023
In the internal combustion engine of diesel generator, there are many sliding bearings (also called bearing shells), among which the diesel generator bears a large force and plays an important role in bearing and crankshaft main bearing. Their operating conditions have a significant impact on the reliability and service life of internal combustion engines, and their operating conditions and material requirements are roughly the same. Therefore, they will be introduced together.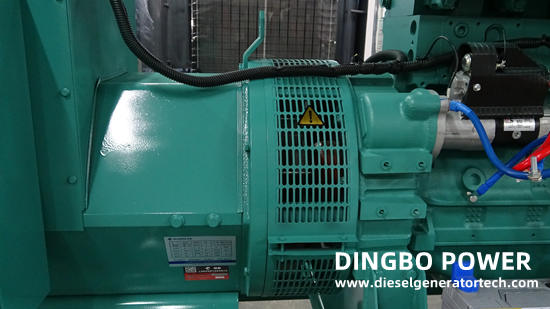 The bearing bush of diesel generator is a thin-walled part with 1-3 mm thick steel strip as its back and 0.3~1.0 mm thick antifriction alloy (white alloy, copper lead alloy or aluminum base alloy) poured on it. As the connecting rod bearing of diesel generator is impacted by gas pressure and reciprocating inertia force of piston connecting rod group during operation, and there is a high relative sliding speed between the operating surface and shaft of diesel generator bearing, due to high load and high speed, the bearing of diesel generator is easy to heat up and wear. This requires high mechanical strength, corrosion resistance, heat resistance, and good friction reduction properties of anti friction alloys.
Due to the large bearing load of diesel generator, copper lead alloy or aluminum base alloy bearing bush is usually used for diesel generator. They have high fatigue resistance, high load-bearing capacity, and good wear resistance, but their friction reduction performance is poor. In order to improve the surface performance of anti friction alloys, an extremely thin layer of alloy (mostly lead-tin alloy) is usually plated on the anti friction alloy, forming a three-layer metal bearing shell of "steel back, anti friction alloy, and surface layer".
In order to prevent the bearing bush of diesel generator from rotating or moving axially during operation, the locating convex key higher than the back surface is punched on the bearing bush of diesel generator. When the bearing bush of diesel generator is installed into the big head hole, the two convex keys shall be respectively embedded into the corresponding grooves of the connecting rod body and the connecting rod cap. Some bearing shells of diesel generator have shallow grooves on the inner surface to store oil for lubrication. However, practice has proved that the bearing bearing capacity of the diesel generator with oil groove is significantly reduced, so it is better not to groove the bearing with large stress, such as the lower bearing of the main bearing of the diesel generator.
Guangxi Dingbo Power Equipment Manufacturing Co.,Ltd. was founded in 2006 and is one of the earliest manufacturers of generators and diesel generator sets in China. The main products are diesel engines, generator sets, and diesel generators, providing users with a one-stop service of design, supply, debugging and maintenance at any time. Dingbo Power has always insisted on using first-class talents, building first-class enterprises, manufacturing first-class products, creating first-class services, and making every effort to build a first-class domestic enterprise. If any question please feel free to visit our website https://www.dieselgeneratortech.com/ or send email to sales@dieselgeneratortech.com.