Oct. 19, 2021
Diesel engine noise can be divided into mechanical noise, combustion noise and aerodynamic noise. With the gradual improvement of people's environmental requirements, how to solve and overcome noise problems has become the key to the application of diesel generator sets. As far as diesel generator sets are concerned, noise can be transmitted through fuselage radiation, vibration of the common base, and exhaust manifold exhaust. Then, how to deal with the noise of diesel generator sets?

1. Mechanical noise. The noise is mainly caused by the collision and friction between the crankshaft, connecting rod and gear moving parts. Measures should be taken to control mechanical noise during the design stage. For example, reduce the cylinder diameter, increase the stroke cylinder diameter ratio, reduce the rated speed, and develop a low-noise diesel generator set.
2. Burning noise. The combustion noise of direct injection combustion chamber is often the main noise source of diesel generator sets. By changing the advance angle of the nozzle, the combustion noise can be effectively reduced.
3. Aerodynamic noise. This noise is divided into exhaust noise, intake noise and fan noise. The sound level at 0.5m from the exhaust port can reach 115-128dba. The muffler is the most effective way to deal with this kind of noise, and it can be combined with a filter.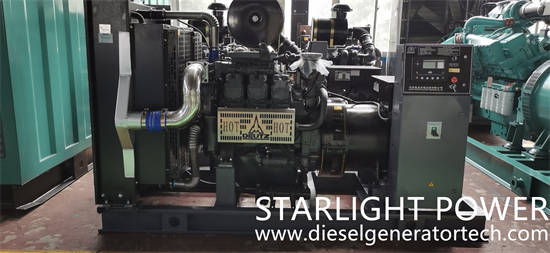 We all know that when a diesel generator set runs at 1500rpm, 105dB noise will be generated 1 meter away from the generator set. In order to avoid the generation of noise in the machine room, the noise reduction project should include: the intake and exhaust system and the exhaust system are designed with noise reduction grooves, the exhaust pipe should be equipped with soundproof packaging. In this way, not only can the heat of the generator set to the machine room be reduced, but also the working vibration of the generator set can be reduced, so as to achieve the purpose of noise reduction.
For the environment with higher noise requirements, Jiangsu Starlight Electricity Equipments Co.,Ltd. recommends that users choose silent diesel generator sets. The box body of the diesel generator set with silent box produced by Jiangsu Starlight Electricity Equipments Co.,Ltd. is made of steel plate, and the surface is coated with high-performance anti-rust paint. It has the functions of noise reduction, rainproof, dustproof, etc., suitable for various harsh outdoor environments. The noise limit of the unit is 75db, which meets the relevant national standards such as gb2820-90. In addition, an observation window and an emergency stop button are provided on the box body to facilitate observation of the unit's operation, and to stop the unit at the fastest speed in an emergency to avoid damage to the unit.
Jiangsu Starlight Electricity Equipments Co.,Ltd. is a manufacturer of professional generators, diesel generator sets, Cummins generator sets, Volvo generator sets, etc. The company has advanced testing equipment, excellent production technology, professional manufacturing technology, perfect quality management system, and Strong R&D technical strength. It can provide 15KW-2500KW various specifications of universal, automatic, four protection, automatic switching, low noise and mobile, etc., high-quality, low-energy generating sets to meet customer power needs, and can also meet users' different voltages and different frequencies, as well as the power supply system of multiple units connected in parallel, welcome customers to inquire. For more details, please contact us with sales@dieselgeneratortech.com