Aug. 12, 2023
Guangxi Dingbo Power Guide: What should we do to make the diesel generator set work normally under high temperature (over 40 ° C)?

(1) Good ventilation of the machine room.
In order to make the diesel generator set work normally under high temperature environment, it is necessary to maintain good ventilation conditions in the machine room. A good ventilation system in the machine room must ensure that there is sufficient air inflow and outflow, and free circulation can be achieved in the machine room. Therefore, there should be enough space in the machine room to ensure that the air temperature is balanced and the air flows smoothly. In case of no special installation conditions, the ventilation system shall generally be of straight in and straight out type. The hot air discharged by the unit shall be absolutely prevented from entering the machine room again through the air inlet.
(2) Increase the effective heat dissipation of the engine.
The cooling water tank of water-cooled engine is generally configured according to the ambient temperature of 40 ℃. In extreme high temperature environment, the heat dissipation capacity of heat dissipation water tank must be increased, and 50 ℃ or 55 ℃ heat dissipation water tank can be selected. As the heat dissipation capacity increases, the power consumed by the water tank fan also increases correspondingly, which reduces the output power of the engine. This must be taken into account when generating set temperature loss is carried out.
For engines equipped with turbochargers, it is generally considered to add intercoolers to cool the supercharged air, so as to increase the intake volume of cylinders.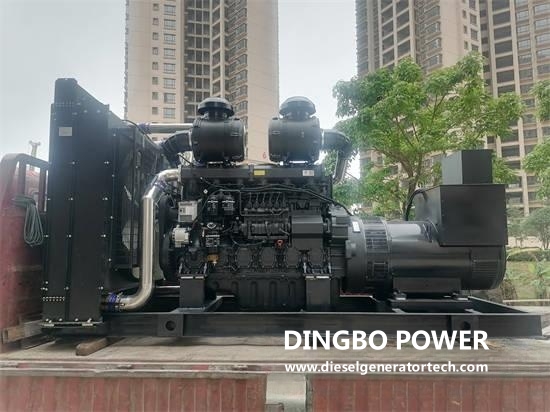 In high temperature environment, the method of adding fuel cooler and lubricating oil cooler can be adopted to increase the heat dissipation effect of the unit. At present, there are four in one cooling water tank products, which integrate four functions of cylinder body heat dissipation, turbocharger intercooling, fuel cooling and lubricating oil cooling, and improve the cooling effect of the unit in high temperature environment.
At the same time, the smoke exhaust pipe, corrugated damping joint, muffler and other heating parts shall be insulated and wrapped in the machine room. For low-noise units equipped with enclosures, the muffler is installed in front of the radiator of the water tank or outside the chassis to facilitate heat dissipation, except for the heat insulation wrapping of the smoke exhaust pipe and corrugated damping joint in the chassis. The starting battery shall be installed at a place with low temperature in the air inlet channel.
Founded in 2006, Guangxi Dingbo Power Equipment Manufacturing Co., Ltd. a wholly-owned subsidiary of Guangxi Dingbo Power Group, is one of the earliest manufacturers of generating sets in China. Over the past 40 years, the company has won the recognition of users by relying on advanced testing equipment, modern production technology, professional manufacturing technology, perfect quality management system, strong R&D technology strength. For more details, please contact us with sales@dieselgeneratortech.com.