Mar. 03, 2022
Diesel generators have a variety of operating power and storage capacity, and choosing the power supply system that best meets your industry needs is the best backup power solution. However, choosing the right power unit is especially necessary for your industry to have sufficient power supply, and the low operating power of a commercial diesel generator means that it cannot reasonably and efficiently supply power for uninterrupted production and processing in the event of a power outage. And the working power is too large, there are also great hidden dangers.

If you purchase high-power diesel generators for the industry, you may also face hidden dangers such as damage to the power supply system, low power generation efficiency and waste of operating costs. However, the working power of diesel generators is too small, which is prone to problems such as power instability and common faults.
If you find that the engine has heavy carbon buildup and a lot of oil loss, you need to connect the diesel generator to the load bank or find another way to increase the power supply load. The increased ambient temperature of the diesel engine will remove dust, slow lubricant loss, and restore your facility to its full operational performance.
Whether it is used as an emergency, or as a main diesel generator in the manufacturing industry, many users think that these people need to order facilities that are much more powerful than these people actually need to work, which is also explainable. Sometimes these people's load calculations are wrong.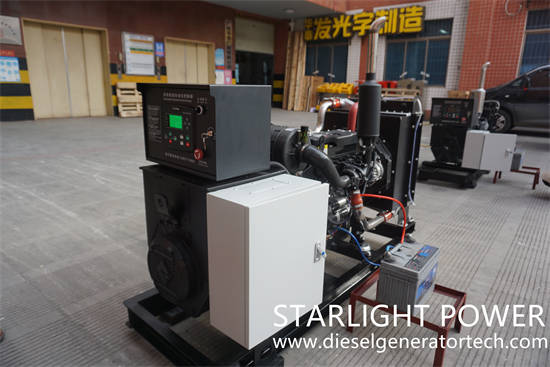 Buy a diesel generator, perhaps to better reduce the operating power of the facility. From the outset, choosing a small to medium diesel generator can save money, but with the development of the work, the power supply system will struggle to meet the demand. Your facility is overloaded at high speeds and you risk damaging appliances, facilities and their diesel generators themselves. Using a higher system software from the very beginning can help you prepare for the future of the manufacturer in advance, while maximizing your investment in production and processing projects.
If you crank up the power too much, your diesel engine will break. If you buy or rent a diesel generator with more operating power, its diesel engine may pay a fair price. Diesel generators like to work hard, and they will actually last longer if allowed.
Jiangsu Starlight Electricity Equipments Co.,Ltd. is an OEM partner of Shangchai for many years. It has more than 40 years of experience in the production and manufacturing of diesel generator sets. It can provide users with various specifications of 15KW-2500KW. And other high-quality, low-energy generating sets to meet all customers' power needs. In addition, it can also meet the requirements of users with different voltages and different frequencies, as well as the power supply system of multiple units connected to the network. There are 64 sales and service departments nationwide, providing long-term technical consultation, free debugging, free maintenance, and free training services for users. Welcome contact us by email sales@dieselgeneratortech.com