Aug. 31, 2023
How to deal with vibration reduction, noise reduction, and cooling of diesel generator sets? The noise of diesel generator sets mainly includes engine exhaust noise, intake noise, combustion noise, mechanical noise of moving parts of the generator during operation, and generator noise. So, how to deal with vibration reduction, noise reduction, and cooling of diesel generator sets? Firstly, for vibration reduction treatment, to reduce the noise caused by diesel generator set vibration, we choose shear type rubber isolation pads placed between the engine body and the concrete base, To eliminate the rigid connection between the diesel generator set and the foundation, thereby reducing the low-frequency noise generated by mechanical vibration of the equipment, the exhaust pipes are wrapped with asbestos.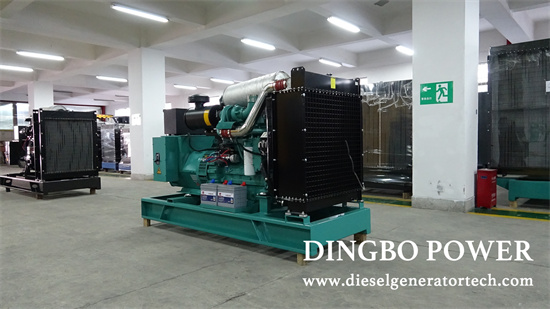 For noise reduction treatment, noise reduction measures are taken for the inlet and outlet of the diesel generator set, with 50mm thick rock wool pasted inside and fixed with galvanized wire mesh. All fans are equipped with silencers at the air outlets. Adopting natural ventilation to reduce the temperature inside the diesel generator room through forced ventilation. Diesel generator sets are a type of power equipment with high heat output, often resulting in noise control and poor ventilation and heat dissipation, affecting the rated power operation of the equipment and even causing shutdown, leading to failure in noise control. So, whether the ventilation and heat dissipation problem of the unit can be effectively solved is the key to governance.
Finally, install an air outlet on the wall of the diesel generator room, facing the fan on the diesel generator set, and install an air guide box to guide the heat dissipation of the diesel generator set outdoors. At the same time, a row of air ducts are built with red bricks outside the air outlet, and rock wool wrapped with glass cloth is attached to the inner wall, and a galvanized steel wire cover plate is pressed. On both sides of the soundproof channel are soundproof louvers, ensuring smooth airflow. At this point, the heat from the diesel generator set can be solved by adding an axial fan for forced exhaust. Two axial flow fans are used for air intake. Generally, a fan muffler is also installed to reduce gap noise leakage, which reduces the indoor temperature by 11 ℃ compared to the original.
Guangxi Dingbo Power Equipment Manufacturing Co.,Ltd was founded in 1974 and is one of the earliest manufacturers of generators and diesel generator sets in China. The company has a registered capital of 218.88 million yuan. The company covers an area of 86,000 square meters and a building area of 55,000 square meters. There are more than 660 employees, including 456 professional technicians and 106 senior technicians. It has 46 sales and service outlets nationwide. The main products are diesel engines, generator sets, and diesel generators, providing users with a one-stop service of design, supply, debugging and maintenance at any time. Dingbo has always insisted on using first-class talents, building first-class enterprises, manufacturing first-class products, creating first-class services, and making every effort to build a first-class domestic enterprise. If any question please feel free to visit our website https://www.dieselgeneratortech.com/ or send email to sales@dieselgeneratortech.com.