Feb. 09, 2023
There are many shaft-like parts on the mechanical equipment of diesel generator set, such as crankshaft, camshaft, transmission shaft, etc. The common damage forms of shaft parts include bending, wear and fracture.

(1) Bending inspection.
The axis of all shaft parts must be consistent with its rotation axis, otherwise it means that the shaft has bending deformation. When checking the shaft bending, if the crankshaft or camshaft journal is singular, measure the intermediate journal. If the journal is even, measure the two journals in the middle and take the maximum value). When rotating the shaft, the difference between the maximum reading and the minimum reading indicated by the pointer of the differential meter is the runout of the shaft on the radial circle.
For some shafts with relatively simple shape, they can be rolled directly on the flat plate. When rolling, observe the change of light leakage between the shaft and the flat plate, and judge whether such parts are bent.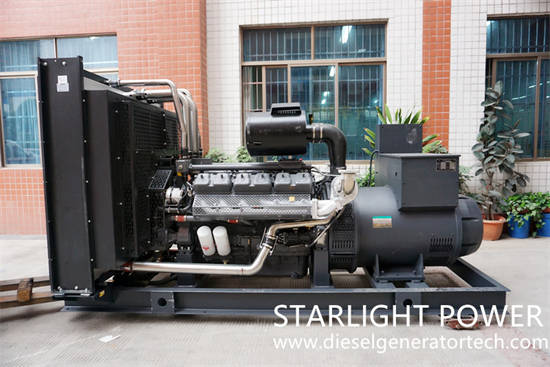 (2) Wear inspection.
The shape of shaft-shaped parts is relatively complex, some are cranks (such as crankshaft), some are tubular (such as half-shaft sleeve), some are rod-shaped (such as knuckle pin), and the wear parts are all journal.
Half of the maximum difference measured on the same cross section is roundness. Half of the maximum difference measured on the same profile is cylindricity.
When one end or both ends of the journal have shoulder end faces bearing thrust, the length of the journal and the radius of the circle should also be checked. In the repair unit with single model and large production scale, various special limit gauges can be used to measure the wear of journal to improve the inspection efficiency.
(3) Fracture inspection.
It can be inspected by inspection and detection.
Jiangsu Starlight Electricity Equipments Co.,Ltd. is one of the earliest manufacturers of generating sets in China. It has first-class testing equipment, advanced production technology, professional manufacturing technology, perfect quality management system, and strong R&D technical strength. It can provide 3KW-2500KW various specifications of universal, automatic, four protection, automatic switching, low noise and mobile, etc., high-quality, low-energy generating sets to meet all customers' power needs, and can also meet users' different voltages and different frequency requirements, as well as the parallel-connected power supply system of multiple units, use excellent talents to build excellent enterprises, create excellent products, create excellent services, and strive to build excellent domestic enterprises. For more product details, please contact us with sales@dieselgeneratortech.com.