Aug. 26, 2020
When buying diesel generator set, some people only ask cheap price, do not consider quality, but after used the cheap generator set, it can not work normally or not a long service life. Some people consider good quality first, then price. As long as price is reasonable, they will accept. So the unit can work for them a long time.

Therefore, it is very important to buy a genuine diesel generator set. Today Starlight Power manufacturer mainly shares how to buy a genuine diesel generator set.
1.Diesel generator set manufacturer
A good manufacturer of power generators should guide customer to select a suitable product according to customer's requirement, try not to let customers spend more money and provide a good after-sales service. Starlight Power is such a manufacturer.
2.Diesel engine, alternator, control panel brand
The main important parts of genset is diesel engine, alternator, control panel. In order to ensure the genset work normally and good performance, we should use good quality and original engine, alternator and control panel brand.
The good engine brand: Cummins, Perkins, Volvo, Deutz, Yuchai, Shangchai, Weichai.
Alternator: Stamford, Marathon, Leroy Somer, ENGGA, Shanghai Kepu, as well as our own brand Starlight.
Control panel: SmartGen, Deep Sea
Starlight Power is the OEM supplier of all above brands for diesel generator set, we can provide OEM certificate. And we only do high quality product.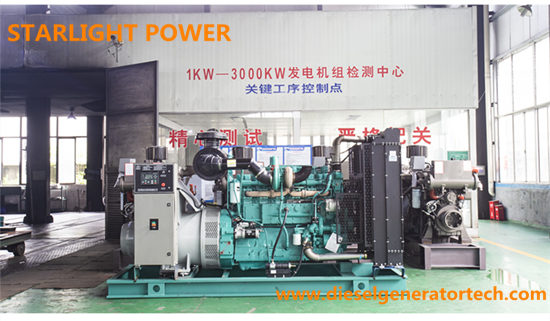 In addition, we also need to pay attention to other items.
1.KW and KVA. We should confirm clearly about the power unit of diesel generator we need. KW is not same as KVA. In fact, KVA is the apparent power and kW is the effective power, 1KW=1.25KVA.
2.Rated power and standby power. In fact, standby power = 1.1 x rated power. Moreover, the backup power can only be used for one hour in 12 hours of continuous operation. Some customers need rated power generator set, but to let price lower than other suppliers, some suppliers sell standby power generator set to customers, however, the power of genset is enough to supply power. After a long-term use, the service life of the unit is reduced, the maintenance is frequent and the usage fee is high.
3.Brand new and used. Some supplier sell second diesel generator to customers as a brand-new one, and some of the renovated diesel engines are equipped with brand-new generators and control cabinets, so that ordinary non professional users can't know whether it is a new one or an old one.
4.Brand name and country of origin. We should also ask the brand of diesel engine or generator, and country of origin. Such as Cummins in the United States, Volvo in Sweden and Stamford in Britain. In fact, it is impossible for any diesel generator set to be manufactured by a same enterprise. Customers should fully understand the manufacturer and brand of diesel engine, generator and control cabinet of the generator set, so as to comprehensively evaluate the grade of the generator set.
5.Protection function. All diesel generator set is required to equip with protection function. If not, it is not qualified.
6.Random accessories. We should ask random accessories, such as silencer, battery, battery charger, shock pad, user manual, operation & repair manual etc. All these accessories are important.
7.Performance and quality must meet the requirements of relevant standards.
8.Importance of utility switch. The utility switch is divided into two types: manual and automatic (ATS). If your diesel generator is used as a standby power supply, the mains switch must be installed at the power input point. It is strictly forbidden to input the self provided power supply to the load by means of temporary wiring and memory operation. Once the self provided power supply is connected to the grid without authorization (referred to as reverse power transmission), it will cause serious consequences of casualties and equipment damage. Whether the switch is installed correctly or not must be checked and approved by the local power supply department before it can be put into use.
The above is what we share today, hope it is helpful for you when buying diesel generator set. Starlight Power are as one of leading diesel generators manufacturer in China, set up in 1974, focused on high quality product with reasonable price. We have exported product to Ethiopia, Nigeria, Sri Lanka, Thailand, Philippines, Saudi Arabia etc. Our diesel generators power range is from 25kva to 2500kva, if you have purchase plan, welcome to contact us by email sales@dieselgeneratortech.com or call us by phone +8613481024441.